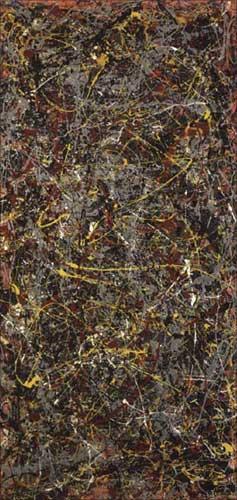 American painter Jackson Pollock's
No 5, 1948
was sold for $140 million (about Rs 6.3 billion/Rs 630 crores) on Thursday, making it the most expensive painting so far.
David Geffen, the entertainment mogul and co-owner of the movie company Dreamworks SKG, sold the painting to David Martinez, a Mexican-born financier.
Before this, Gustave Klimt's 1907 portrait Adele Bloch-Bauer I fetched a price of $135 million.
The Pollock sale is still shrouded in secrecy with the exact amount for the painting not being confirmed by both parties.
Number 5, 1948 is 4 feet by 8 feet and is one of the first drip paintings by the late American genius.
In his revolutionary technique of painting, Pollock used his paintbrush as a tool to drip paint on large canvases where the brush never touched the surface. The technique earned him the sobriquet -- Jack the Dripper.
Pollock was born in 1928 and suffered from depression and alcoholism. He died in a car crash at the age of 44. Pollock, a film on the artist's life, was made in 2000 where Oscar nominee Ed Harris played the role of one of the 20th century's greatest artists.