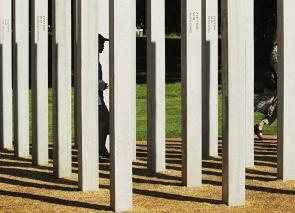 Vandals on Monday defaced a memorial to the victims of July 7, 2005 London bombings hours before survivors and relatives were to gather there to pay tributes on the ninth anniversary of the attack.
The 52 stainless steel columns, commemorating each of the deceased, were daubed with messages referring to ex-Prime Minister Tony Blair, who led Britain into the United States-led wars in Afghanistan and Iraq, as well as the four suicide bombers involved in the attacks.
Located in the heart of city at Hyde Park, all the pillars were replicated with slogans in red and black paint that read 'Blair Lied Thousands Died', '4 Innocent Muslims' and 'July 7 Truth'. A spokesperson for the Royal Parks, which manages all the parks in the city, said the graffiti has been removed after they were discovered by the park's manager early on Monday morning.
"We found it this morning. It has now been removed and the memorial can go ahead as planned. Obviously, we are very disappointed," she said. The monument honouring the dead in the attack on London's transport system cost nearly Pounds 1 million and has 52 stainless steel columns, or stelae, which are 3.5 metre tall.
The memorial was unveiled in 2009 at a ceremony attended by the Prince of Wales, the then Prime Minister Gordon Brown and other political leaders. The columns are grouped together in four clusters, which signify the locations of the bombings -- Tavistock Square, Edgware Road, King's Cross and Aldgate.
Four bombs went off in the co-ordinated attack in 2005, which saw 770 injured in addition to those killed. Three of the bombs exploded at 8.50 am on Underground trains outside Liverpool Street and Edgware Road stations, and on another travelling between King's Cross and Russell Square.
One hour later, a double-decker bus was exploded in Tavistock Square. The Scotland Yard said that the police had launched an investigation into the damage. "Officers were called by a member of the public shortly before 8 am and informed of the graffiti, which is being treated as criminal damage," a metropolitan police statement said.
"Inquiries continue led by officers from Westminster -- there have been no arrests at this time," it added.
Image: A visitor walks through the memorial to victims of the July 2005 London bombings in Hyde Park, central London. Photograph: Olivia Harris/Reuters