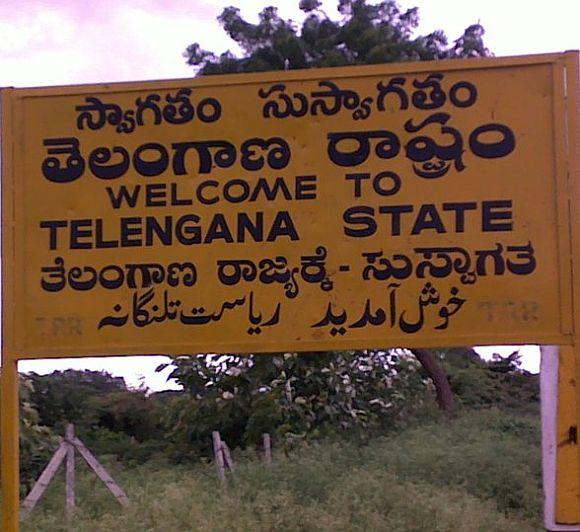 The Telangana Bill has been passed in the Lok Sabha amidst uproar. The bill was passed by a voice vote. Both the Congress and the Bharatiya Janata Party supported the bill.
The telecast of the proceedings was stopped on the orders of Speaker Meira Kumar to ensure that none of the Members of Parliament use television coverage to cause chaos and drama.
Trinamool Congress and Janata Dal-United members walked out of the House in protest. CPI-M members also protested over the conduct of proceedings.
Hyderabad will be joint capital of Telangana and Seema-Andhra. The Telangana Bill was taken up clause by clause, since there were 62 amendments to it.
Home Minister Sushil Kumar Shinde said in the Lok Sabha that he sincerely hoped the Telangana issue is resolved. He announced a financial package for Seema-Andhra.
Telugu Desam Party MP YS Chaudhary said, "The Speaker is acting as agent of the Congress." He called the live telecast blackout a "murder of democracy". Union ministers D Purandeshwari and J D Seelam protested in the floor of the house.
As the Lok Sabha debate continued, celebrations broke out in the streets of Hyderabad. The locals are well aware that it is just a matter of a few minutes before the entire process is over in the Lok Sabha.
"The passing of the bill shows that power of the people is far stronger than the people in power," senior Telangana Rastriya Samiti leader K T Rama Rao told rediff.com amidst deafening celebrations in Hyderabad.
"It is the victory of the people of Telangana. We would want to pay a tribute to all those who have fought for this cause. This is a victory of the people and a victory of the democratic spirit," he said.
"I would like to appeal to all the people of Seema-Andhra not to view this is a game that they have lost. This is not about winning and losing. All of them are my Telugu brothers. Please do not worry about the safety of any Seema-Andhra resident in Hyderabad or any other part of Telangana. They are safe and the responsibility of every Telangana resident has only doubled to ensure that they do not trouble anyone from the Seema-Andhra region. We understand the responsibility now and we will ensure that there is peace and prosperity."