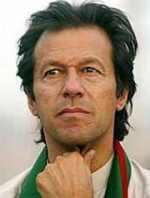 Asserting that recent ceasefire violations at the Line of Control have "pushed back" the peace process, Pakistan's cricketer-turned-politician Imran Khan on Friday said armies are not equipped to find solutions to bilateral problems.

Pakistan Tehreek-e-Insaf chief also stressed on the need for dialogue and underlined that Pakistan and India should sort out the issues on their own.

Terming the LoC violations as "very unfortunate", Khan said, "We were moving forward on peace process and it (LoC incidents) has pushed us back. Not as back as the Mumbai 26/11 time but still it is quite back".
He added that the media should have been less jingoistic and acted in a more responsible manner.
"It is not in the interest of people of India and Pakistan to have animosity...eventually the solution lies on the dialogue table and peaceful dialogue (is needed) for sorting out the differences," Khan told PTI in an interview on the sidelines of the World Economic Forum in Davos.
Asked if Indian and Pakistani armies should have a greater contact at the top level, he said, "What we need is strong leaderships. Armies are not going to settle the issues. Army men are not equipped to find political solutions, only politicians are. Politicians with big public mandate would eventually find the solutions for issues between two countries".
Replying to a query on America's role in the sub-continent, he said Pakistan has been used as a "tissue paper" by Washington. "I think Pakistan and India should sort out the issues on their own. At the most, US could be a facilitator and nothing more than that."
He said the war on terror has had adverse impact and the way it has been fought has led to results that are counter-productive.
"There has been negativity and anti-US feelings in Pakistan because of this. The feeling is that Pakistan has been used as a tissue paper by the US...So people in Pakistan suspect the intentions of US. On the other hand people in the US suspect the Pakistani army of playing double role. So it is a relationship based on distrust. So how can you have a common agenda of fighting terror when two countries don't trust each other," he asked.
On his policy towards India if he comes to power in the upcoming general elections in Pakistan, Imran said Islamabad would take faster steps.
"We will take steps for normalisation of ties and CBMs (confidence building measures), but at a greater pace. We would like to fasten this whole process and get some sort of road map going. That is my aim regarding India. Quicker you do, the more the subcontinent would reap the benefits and dividends of peace because trade has such an enormous impact on our subcontinent," he said.
Khan said he favoured greater cricketing ties between the two countries.
"In fact, we should have gone for a test series. It was a very token sort of one day series which was not good enough and just began and finished. India-Pak test series has more viewership than any other test series in the world. I was a bit disappointed that there were just one day matches," he said regarding the matches that took place this month more than four years after bilateral cricket ties snapped due to the 2008 Mumbai terror attack.