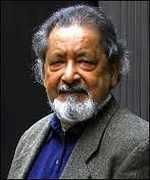 V S Naipaul has come in for stinging criticism from noted playwright Girish Karnad for his views on Muslims in India, with the latter saying the Nobel laureate has no idea of the community's contribution to the country's history.
"Naipaul has no idea of how Muslims contributed to Indian history," Karnad said during a session on theatre, at -- Literature Live! -- a festival in Mumbai on Friday where he attacked the Indian-origin writer for his reported visit to the Bharatiya Janata Party office after Babri mosque demolition.
Dwelling on Naipaul's anti-Islam stance in his writing, Karnad said, "Given that music defines our daily existence... you find it in the streets, in the restaurants and so on... you would expect an exploration of India to comment on that. Now Mr Naipaul has written three books on India. If you read them, you find that not even one of them contains any reference to music. He has gone through the whole of India without responding to Indian music. I think that only means that he is tone deaf," Karnad said.
Naipaul, who was awarded the Lifetime Achievement Award at the festival, was not present when Karnad made the remarks before a small audience, which included actor Naseeruddin Shah.

Calling Naipaul an unreliable writer of non-fiction as far as India is concerned, Karnad said, "He really doesn't pay much attention to the details of the texts he studies."

Image: V S Naipual