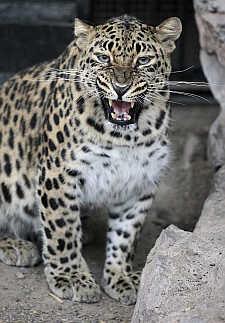 Residents, forest officials and experts come together to provide security against a prowling leopard in Thane's Hiranandani Estate and nearby colonies, reports Faisal Kidwai.
Hiranandani Estate and its neighbourhood in Thane have announced measures to protect themselves from the threat of a leopard. The big cat, which has reportedly killed a dog in the housing colony and has been caught on CCTVs prowling the area looking for meal, was first sighted about two weeks ago and since then has caused considerable worry in one of the most expensive real-estate properties in the district near Mumbai.
Residents of Hiranandani, Azadpur, Brahmand and other surrounding colonies held a meeting with local politicians, forest officials and experts on Sunday to discuss their fears, security and the animal.
Sunetro Ghoshal, a researcher who has been working with leopards in Mumbai and other regions, laid out the steps needed to protect both human beings and the big cat.
First, there should be adequate lighting everywhere as that helps people and the animal to spot each other thus reducing the chances of a sudden encounter which could cause the leopard to attack in panic.
Secondly, although probability of it attacking a human being is low, parents should accompany their children at all times, especially during evenings.
Thirdly, the animal is entering the colonies in search of food but if it cannot find meal here then it will leave the area alone. The most effective way to do this is to get rid of stray dogs, pigs and roadside garbage as these are the biggest factors attracting the leopard.
Finally, Ghoshal told the meeting that everyone will have to learn to live with the threat of the big cat because getting rid of the animal completely is unlikely given the surrounding forests and their natural habitat. He said even if the forest officials are successful in catching and removing this leopard other leopard will take its place, so the threat will remain.
Anwar Ahmed, Deputy Conservator of Forests in Thane, said these animals have been entering these neighbourhoods for more than a decade but people are only noticing them now because they have been caught on CCTVs.
Appealing to residents not to fan rumours or panic, he said first it was reported that there was just one leopard and then suddenly people started talking about sighting four big cats. He added that while fear was understandable and desirable as that keeps everyone on their toes panic should be avoided as that can be counter-productive both for the animal and humans.
Ahmed informed the gathering that the forest department has set up four traps around Hiranandani Estate and its surrounding areas and a team of rangers will patrol the neighbourhood to catch and relocate the animal.
He said that although the department only gets permission to tranquilise and capture wild cats after they become man-eaters, they have been successful in securing the required authorization even though the leopard has not yet harmed humans.
The deputy conservator added that Thane was not the only place witnessing visits by wild animals into residential areas, other localities that have reported sightings include Mulund and Borivali in Mumbai.
He said the most important thing to remember is that the leopard is probably more afraid of human beings than vice-versa.