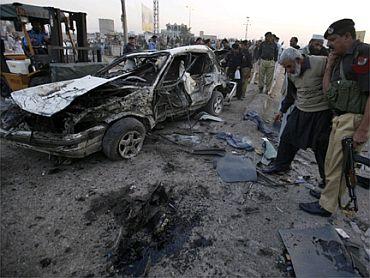 Pakistan's banned terrorist outfit Lashkar-e-Jhangvi on Wednesday took responsibility for a bomb attack on a senior judge of the Sindh high court earlier this month in which nine people were killed.
Masoon Billah, who headed the death squad of the LeJ, admitted to planning the attack on Justice Maqbool Baqar on June 26 in the busy Burns road area of the city, the police said.
"Billah alias Abu Bakr has claimed that the planning of the attack took place at accomplice Bashir Leghari's house," one official said.The attack on Justice Baqar killed nine people and injured many more, the police said. Justice Baqar survived the blast with some injuries.
The intelligence bureau in its reports sent to the government confirmed they had arrested and detained the suspected chief of the death squad who was also produced in court and remanded to judicial custody until June 29.
Interestingly, the banned terrorist group Tehreek-e-Taliban had also claimed responsibility for the attack.