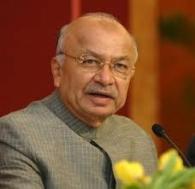 Union Home Minister Sushilkumar Shinde had a word of advice for new Delhi Chief
Minister Arvind Kejriwal on how to run a coalition government -- follow Prime Minister Manmohan Singh's example.
Shinde said that running a coalition government is a "difficult task" and that those at the helm should choose what they say with care,
"He has got elected as the chief minister and the Congress has supported from outside. Our policy is very clear that the government should function. But the person at the helm should talk with care," Shinde told reporters on Sunday, a day after the Aam Aadmi Party leader assumed office as Delhi chief minister.
"For instance, Manmohan Singh runs a coalition government, it's a very difficult task. That's an example before the country," the home minister added.
The Congress, which won eight seats in Delhi assembly polls, is providing outside support to Kejriwal's AAP. The Bharatiya Janata Party won 32 seats in the election, the highest, but refused to form the government as it fell short of majority.
Kejriwal on Saturday took oath as Delhi's seventh chief minister in a huge ceremony at the Ramlila Maida that was attended by over a lakh people.

Image: Home Minister Sushilkumar Shinde