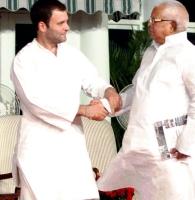 Putting pressure on ally Congress, Rashtriya Janata Dal chief Lalu Prasad on Saturday offered 11 seats to the Congress and asked the party to give its acceptance by Sunday, before a meeting of the party's Parliamentary Board.
The RJD has also offered one out of the 40 seats in the state to another Congress ally Nationalist Congress Party.
Prasad said he had told Congress general secretary and in-charge of Bihar C P Joshi about the offer.
"I have asked him to communicate acceptance before the RJD Parliamentary Board meeting in Patna," Prasad told reporters.
Asked to comment on why the alliance between the RJD and the Congress was stuck, he said the offer did not mean that "everything is over" between the two parties on the issue.
"I have also told Joshi that if his party stakes claim for any other seat than he should tell me and also convince me of the winning potential of his expected candidate," he said.
To questions on whether the RJD could decide to go it alone, he said, "Why are you presuming things? The party's Parliamentary board will take some decisions on Sunday."
Prasad said that for him and the RJD, the biggest challenge was to stop communal forces.
"For this we want to take all secular parties, including the Congress, with us," he said.
Prasad did not identify the 11 seats he has offered to the Congress and he also refused to comment on reports about the RJD-Congress alliance being stuck due to conflicting claims between the two parties.
"In general, the claim shall be staked on seats only on the basis of the performance of the respective parties in the last general elections, as per Election Commissions results," he said.
Image: Congress leader Rahul Gandhi with RJD chief Lalu Prasad