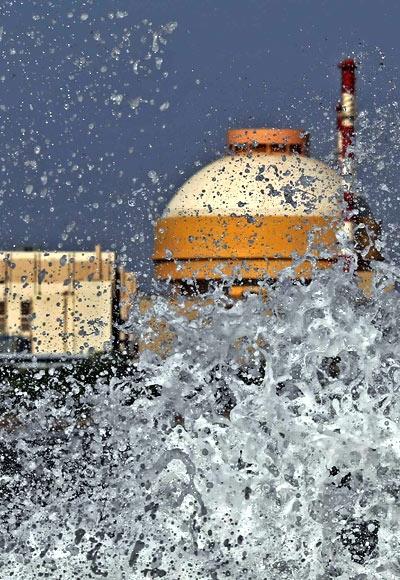 Activists strongly opposed to the Koodankulam Nuclear Power Project have now turned to God.
In a letter, they have urged the Almighty to save them from the impending 'nuclear disaster'.
While seeking divine intervention, they have pointed out the Indian government's woefully inadequate disaster response tactics in the wake of the Uttarakhand deluge and explained in detail exactly what is wrong with the project.
Here is the letter:
An Open Letter to God:
God Almighty! Please Save Us from Nuclear Disaster!!
Dear God Almighty:

We bow to You in prayer and meditation! This is a frantic, desperate and despondent cry to save us, the people of Tamil Nadu and Kerala, from an impending nuclear disaster at the Koodankulam nuclear power project (KKNPP).

We feel so sad and sorry when we see our brothers and sisters suffer so much in Uttarakhand due to the Nature's fury and our governments' sheer lack of efficiency. We get so sacred and are deeply worried how our government leaders, politicians, bureaucrats and others would help us in the wake of a nuclear disaster at Koodankulam or elsewhere.

Our Honorable Prime Minister, Dr. Manmohan Singh, addressed the first session of National Platform for Disaster Risk Reduction in Delhi on May 13, 2013 on the theme of "making risk reduction an intrinsic part of our development processes" and made the following confession: "I believe that while we have made encouraging progress in recent years in putting in place institutions and mechanisms for disaster prevention and mitigation, we have still a large distance to travel."

Our Prime Minister, who is mostly silent and secreted like You, has chosen to speak, and that too the Plain Truth about our disaster unpreparedness. Oh, Our Creator! You know very well that we, Indians, have a long way to go towards effective and efficient disaster management and mitigation. The Uttarkhand tragedy is the latest proof for our lackadaisical attitude toward Nature, People, and Future; our corruption and immorality; and for our disaster management inadequacies and unpreparedness.

It took 58 long years for our Nation to pass the Disaster Management Act and it was legislated only in 2005 after suffering the huge tsunami disaster in December 2004. The National Disaster Management Authority, National Disaster Response Force, National Disaster Response Fund and their state counterparts have all been set up only recently and all of them continue to be mere paper exercises.

"The Performance Audit of Disaster Preparedness in India," a report (Report No. 5 of 2013) of the Comptroller and Auditor General of India, has established that the Tamil Nadu State Disaster Management Authority (SDMA) constituted in September 2008, and the District Disaster Management Authorities (DDMAs) constituted in 2012, "did not meet even once" (pages 150-151). In our Tirunelveli district, "interest earning of Rs. 22.85 lakh on unspent balance of relief for natural calamities during June 2008 to December 2011 was not remitted back into government account."

Our Good Lord, we have been crying hoarse for the past two years that the Koodankulam nuclear power project (KKNPP) is dangerous and unsafe for the people of Tamil Nadu and Kerala because of the usage of substandard equipment and parts from corrupt Russian companies such as Zio-Podolsk, Informteck, and Izhorskiye Zavody etc. Most of the components, the reactor pressure vessel (RPV) and cables have come with no quality or guarantee. There has been rampant corruption in the Koodankulam project. But our governments, their departments, bureaucrats, politicians, scientists and all the rest of them have turned a deaf ear to our appeals and requests for stringent scrutiny and shutting down of the plant.

When we ask the Kanyakumari District Collector if there are any villages within the 16 km radius from the Koodankulam plant, he says in his reply (dated May 20, 2013) that "the information sought for is not available in this office records." And the Nuclear Power Corporation of India Ltd. (NPCIL) has claimed (in its letter of June 21, 2013) that there are "NO" Kanyakumari villages and hamlets within the 16 km radius from the Koodankulam nuclear power project. As the Creator, You must know that Kanakappapuram, Kanimadam and Anjugramam villages are at a distance of 14.4, 15 and 15.9 kms respectively from the Koodankulam plant. The Site Evaluation Report of the KKNPP 3-6 establishes (in Annexure 1.1-4) that 13% of the 16 km population lives in Kanyakumari district villages.

The site selection mechanisms and processes followed by the Department of Atomic Energy (DAE) have been a disaster. In its May 31, 2013 reply to Adv. M. Vetriselvan's RTI petition, the Atomic Energy Regulatory Board (AERB) has said that they are investigating if there is any under-sea volcano near the Kalpakkam nuclear power plant. But NPCIL has claimed now that the Smithsonian Institute's reporting of a submarine eruption near Pondicherry off the eastern coast of India in 1757 is wrong and there is no volcano in the area (Daily Thanthi, June 27, 2013, p. 24). It is in this controversial site, the DAE is building two more Prototype Fast Breeder Reactors (PFBR).

The Koodankulam site is also quite problematic with 'karst' holes and sub-volcanic intrusions all over the place, two huge slumps in the Bay of Bengal, and frequent tremors and geysers in the vicinity. Similarly, the Mithi Virdi site (in Bhavnagar district in Gujarat) for an American nuclear power park is also another site selection disaster. Independent studies have revealed that the site is geologically, geographically and strategically unfit to house high-risk facilities such as nuclear power plants.

As the Indian ruling class is embarking upon an ambitious nuclear power program with the unscrupulous American, Russian, French and other nuclear industries, we, Indians, are getting nervous and fidgety about our and our families' safety and well-being. This looming nuclear threat on our highly and densely populated country is very unsettling and disquieting.

God, our Lord, our sisters and brothers in Bhopal have not got compensation, medical assistance or any kind of help from the state and central governments even after almost 30 years. Even the deadly waste has not been removed yet by the scores of Prime Ministers and Chief Ministers we have had since 1984.

Oh, God, please show mercy on us and save us from our governments, political leaders, bureaucrats, nuclear scientists and other powerful people who are NOT used to any plain-speaking, or truth-telling. Oh, God, most of our political parties and leaders are bribed by the nuclear estate, most of our scientists receive their funding for their research projects, and many of our mediahouses are ready to kill for their advertisement money. When the international nuclear profiteers throng our country and start working with these selfish and unscrupulous elements, our future and well-being will be doomed forever.

We, the ordinary people of India, are left high and dry. Please, Oh, God, grant us a Future with an independent nuclear regulatory commission, a phase-out plan for the existing nuclear plants, a renewables-based energy policy, a Corporate-free economy and clean politics. Grant us the Day when we all can jump in joy and scream Dr. Martin Luther King, Jr.'s powerful words: "Free at last, Free at last, Thank God almighty we are free at last."

Yours truthfully,

The People of Tamil Nadu and Kerala.