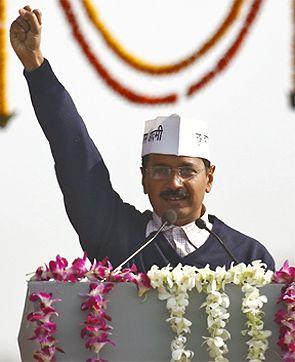 Delhi Chief Minister Arvind Kejriwal had applied for an official bungalow in Lutyens' Delhi soon after he was sworn-in, official documents have revealed.
In a letter dated December 30, 2013, Kejriwal's chief secretary Rajendra Kumar urged the lieutenant governor to allot House No 6/7 and 7/7 at Bhagwan Das Road for the Aam Aadmi Party leader. The two houses belong to the Delhi Development Authority.
The approval was granted on the same day.
Media reports have regularly suggested that Kejriwal refused official accommodation in his bid to abolish VIP culture in Delhi.
Following the AAP's impressive performance at the assembly elections, Kejriwal was sworn-in as the Delhi chief minister on December 28, 2013.
Read: Kejriwal's office requests for two bungalows
Read: Delhi LG's office grants approval
Image: Arvind Kejriwal gestures during his swearing-in ceremony in New Delhi on December 28
Photograph: Anindito Mukherjee/Reuters