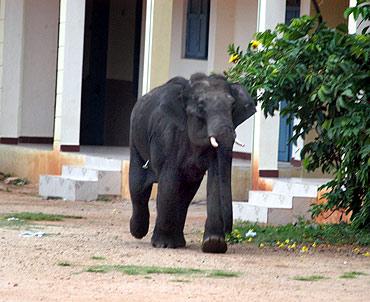 A herd of 15 elephants that have wrecked havoc and killed four persons including a photojournalist at Kolar are now at a distance of 3 kilometres from Bengaluru. The elephants, which entered from Tamil Nadu into Kolar, had escaped to Malur.
They have now been spotted at the Bannerghatta forest limits, which is 3 kilometres away from Bangalore.
The forest department literally facing a Herculean task, with the additional task of crowd control. Department officials have barricaded the area connecting the forest, and are appealing to the crowds to stay calm.
The elephants have not moved from this area since morning and department officials say that the noise created by the crowd could scare the elephants. Officials informed that are waiting for the elephants to go back into the forest area.
"It would be risky to try and chase them, since they could panic and may enter city limits. Elephants generally tend to move at night and we are hoping that they would go back later. We are taking all measures to ensure that they do not enter the city," officials also point out.