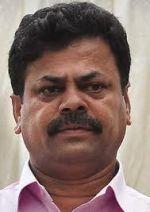 Karnataka Chief Minister Jagadish Shettar on Wednesday sacked Excise Minister Renukacharya from his cabinet.
The CM has sent the recommendation to the governor. The decision to sack Renukacharya was taken after he made allegations against former chief minister Sadananda Gowda.
Renukacharya alleged that he had bribed Gowda.
Renukacharya, who has also been expelled from the BJP for 6 years, is expected to join B S Yeddyurappa's KJP on Friday.