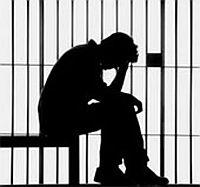 Sayed Zabiuddin Ansari alias Abu Jundal, a 26/11 mastermind and prime accused in a conspiracy case of attack on Maharashtra Police Academy in Nashik, has complained to a local court that he was tortured with electric shocks by police, a charge denied by the prosecution.

Jundal, who was produced before a special court on Friday along with two others, filed an application alleging that after being deported from Saudi Arabia, he was tortured mentally and physically by Delhi Police, Mumbai Police, crime branch police and ATS.
A suspected terrorist of the banned Lashker-e-Tayiba, Jundal pleaded that he was innocent and falsely implicated in the case of conspiracy to blow up the MaharashtraPoliceAcademy located in Nashik and conducting a recee of important places in 2010. He sought discharge from the case saying he was not involved in the conspiracy.
He also denied charges of imparting training to the co-accused in Pakistan.
Special District and Sessions judge K K Tantrapale would decide on his application on April 16.

Jundal told the court that he had also sent separate petitions to the International Court in Hague, Saudi Arabian Court which sent him to India and Human Rights Commission alleging torture by Indian police.

In reply to Jundal's allegations, special public prosecutor Ajay Misar told the court that Jundal was produced in various courts till date but he had never complained about mental or physical torture by police.

"He is doing it now to save himself from the clutches of law," Misar said, rubbishing the allegations.
Misar also said that any such "torture" was not detected during Jundal's medical examination before being produced in various courts in India.
Following the death of Jundal's advocate Milan Joshi on April 11, the court has appointed advocate Bipin Pandey to defend Jundal in the Nashik case.

Co-accused Himayat Baig and Bilal Shaikh have pleaded not guilty to the charges.
The ATS had filed a 58-page chargesheet on February 7 against Jundal, Himayat Baig and Bilal Shaikh, prime accused in this case. Seven more accused are absconding. The charges are yet to be framed against the accused.