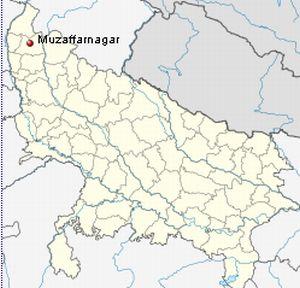 A series of communal clashes rocked a few villages of Western Uttar Pradesh on Saturday, killing nine persons including one IBN-7 news channel journalist and a local photographer hired by the Muzaffarnagar police.
About 35 persons were injured in the incident that took place in several villages following a meeting by a local Jat group in Naglababad village in defiance of prohibitory orders. The Jats were demanding withdrawal of cases against those booked for a communal clash in the neighbouring Kawal village on August 27, leaving three dead.
Late on Saturday night, a state home department spokesman said in Lucknow that army personnel have been deployed in the riot-hit areas of the district to help the civil authorities maintain law and order.
An indefinite curfew has also been imposed in the area.
The region is traditionally known for tension between the Jat and Muslim communities.
According to reports reaching the state headquarters in Lucknow, "the number of dead could increase as some of the injured were critical".
About a dozen persons were injured in the10-day old incident, which was attributed by the police as a "minor brawl between two groups."
Saturday's victims
IBN7 journalist Rajesh Verma and Israr, a photographer hired by the Muzaffarnagar police were returning after covering the Naglababad meeting. While a stray bullet was stated to have hit Verma, Israr was lynched to death by a mob in Sakeda village from where he was passing.
Communal clashes were also reported from a couple of other villages in the neighbourhood. Five persons were injured when members of two communities pelted stones at each other in Basiakla village. Violence and arson was reported from Ilmanspur village where a government vehicle was set afire.
Apart from heavy police deployments in the entire area, Special Task Force was detailed to carry out a probe into the violence.
Director General of Police Devraj Nagar, who air-dashed to the scene of the incident, sought to blame it all on "mischief mongers" who wanted to foment communal trouble in the state.
"No one will be allowed to take law into their hands or disturb peace and tranquility", he made it loud and clear.
With inputs from PTI
Map Courtesy: Wikimedia Commons