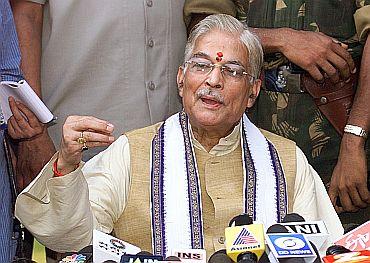 Despite the Samajwadi Party demanding unconditional apology from Bharatiya Janata Party over chants of "Har Har NaMo" cheering BJP's prime ministerial candidate Narendra Modi during a recent rally in Varanasi, Murli Manohar Joshi on Sunday again raised slogans of 'Har Har Modi' while addressing party workers.
Joshi asked BJP workers to shout "Ghar Ghar Modi, Har Har Modi, booth booth par Joshi" during a 'Karyakarta Sammaan Samaroh' (Honour Workers Function) organised on his 80th birthday to honour party workers for the success of the recent Vijay Shankhnad rally held on December 20 last.
Terming the "Har Har Modi" chant during Modi's December 20 rally in Varanasi as an insult to the followers of Hindu religion, Samajwadi Party had demanded an unconditional apology from the BJP.
"I will have no objection if all BJP workers raise this slogan," Joshi said and encouraged the workers to chant it in support of Modi.
Earlier, attacking the Congress-led United Progressive Alliance government, Joshi said questioned them on what new it had done for the country.
"This Sarv Shiksha Abhiyan was started by me (as HR minister) during my (National Democratic Alliance) government. I ask the PM (Manmohan Singh) what has he done new for the country. How many new schools they have made in their tenure?" he asked.
"When I was the minister, the fees of IIMs was Rs 30,000. But now it is around Rs 25-30 lakh. Why are they making education a business?" he charged.
On Manmohan's remark that history would repeat and do justice with him, Joshi said, "The women of this country, whom you have made unsafe, will firstly do justice to you. There is not a day when newspapers don't carry rape incidents."
The BJP leader claimed credit for exposing the 2G scam saying neither Anna Hazare nor Arvind Kejriwal were there to expose these scams at the time.
"I was the first to expose 2G scam of Rs 1.76 lakh crore. Many ministers and senior officers were sent to jail for this. At that time, neither Anna was there nor Kejriwal movement was there," he said.