Speaker of Jammu and Kashmir Assembly Mubarak Gul on W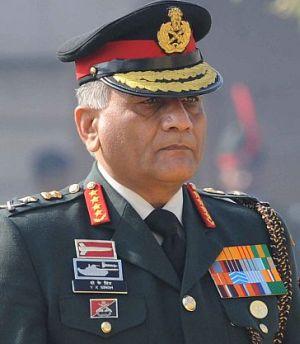 ednesday aid he will summon former Army Chief V K Singh to explain his position on his controversial statement about payoffs to politicians in the state.
"I will summon him (Singh) very soon," Gul said amidst uproar in the Assembly, which saw Opposition PDP storming the well of the house and demanding the Speaker set a time-frame for it.
The speaker refused to spell out the time-frame for summoning Gen Singh, who had alleged that money was being paid to ministers in Jammu and Kashmir for getting certain jobs done, saying the proper procedure will be followed.
The Bharatiya Janata Bharatiya and National Panthers Party members also rushed to the well of the House urging the speaker not to change his earlier ruling in which he had said that he will write a letter to the former Army Chief seeking an explanation from him on his controversial remarks.
The ruckus began when National Conference member and Law Minister Mir Saiffullah, supported by PDP members, demanded that Gen Singh be summoned to the house instead of writing a letter to him for seeking an explanation.
This prompted the Opposition Peoples Democratic Party members to storm the well of the house after which the speaker adjourned the House for 10 minutes.
As soon as the house re-assembled, pandemonium continued for another 15 minutes before the Speaker adjourned the house for a second time for 20 minutes.
As the proceedings resumed, the speaker called for tabling of bills and other listed business before the house but the opposition PDP members again stormed the well.
Amid din, the House approved extension of time for presenting reports of various select committees till the end of the next session.
PDP leader Mehbooba Mufti suggested that the house take a vote on whether to summon former army chief or seek an explanation from him through a letter.
Gul said there was no need for voting on the issue. The PDP members, however, pressed that the speaker set a period of one month for summoning the army chief.
The members of Legislative Assembly of the PDP, the BJP and the National Panthers Party shouted slogans in the well of the house leading to adjournment of the assembly sine die by the speaker.