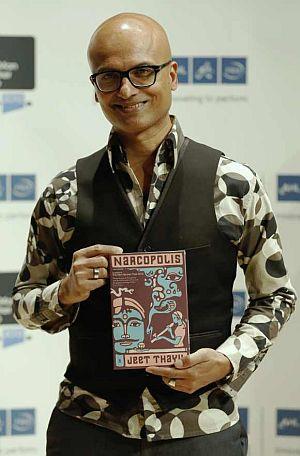 Well-known Indian poet and novelist Jeet Thayil has won the DSC South Asian literature prize worth $50,000 (about Rs 27 lakh) for his debut novel Narcopolis.

Thayil is the first Indian author to win the prize.

Thayil's Narcopolis was part of a shortlist of six works which included Jamil Ahmed's The Wandering Falcon, Tahmima Anam's The Good Muslim, Amitava Ghosh's River of Smoke, Mohammed Hanif's Our Lady of Alice Bhatti, Uday Prakash's The Walls of Delhi (translated into English by Jason Grunebaum).

Accepting the award from Sharmila Tagore, film actor and UN Ambassador for Goodwill, Thayil said: "I dedicate this coveted award to the Pakistani writer and author Jamil Ahmed. I am very happy to receive this award as I am an Indian, it is an Indian award. The prize money comes from India. The book drew very negative reviews from literary critics. The money matters and am doubly happy to receive this prize. All authors and writers want money and here it is."

Narcopolis, published by Faber & Faber of London, is a rich, chaotic, hallucinatory dream of a novel that captures the erstwhile Bombay of the 1970s in all its compelling squalor.

The plot of the novel is based on Shuklaji Street of old Bombay with a cast of pimps, pushers, poets, gangsters and eunuchs; it is a journey into a sprawling underworld written in eclectic and utterly original prose.

Commenting on the award, Jury Chair K Satchidandan: "Narcoplis won the prize after due deliberations and filtering processes of long listing and shortlisting. Narcopolis mixes fantasy and reality to create a powerful story that deals with a less known aspect of life in a metropolis like Bombay where episodes collapse into one another as in the tales of Vikramaditya telling an interminable tale about the less fortunate and the less visible human beings of the city. I am happy for the winner."