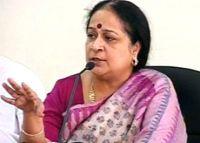 The juvenile accused in gang rape and murder of a student on a Delhi bus in December is "old enough to undergo punishment", as he was old enough to commit the crime, Union minister Jayanthi Natarajan said on Friday.
Speaking at the 'India Today Woman Summit' organised by the TV Today Group, Natarajan said the accused was "only a few days short of becoming a major" before he raped the 23-year-old physiotherapy student, who later succumbed to her grievous injuries.
"I believe if a minor is old enough to rape, he is old enough to undergo punishment... In this particular case, I think he was only a few days short of becoming a major and he should be punished," she said.
Natarajan also assured the gathering that justice will be done in the case as it is being heard in the court on daily basis.
"The trial is going on everyday. For the first time there is a day-to-day trial which never happened earlier... There will be punishment in the case," the Union environment minister said.
Participating in an open discussion on the 'changing role of women and the challenges faced by them' alongwith BJP's Vice President Smriti Irani, Natarajan also told the gathering that the Women's Reservation Bill will be passed in the Lok Sabha also.
"We will make it happen in the Lok Sabha. We made the Women's Reservation Bill happen in the Rajya Sabha, we'll make it happen in the Lok Sabha also," she said.
Replying to question on the opposition to the bill by male MPs, she said, "90 per cent of people in Parliament will lose 180 seats. Nobody wants to vote for that. But we need to move ahead and pass the bill."
She also termed the low conviction rate in rape cases as "pathetic."
"The last crime records which I read for 2011, 35,356 were the reported rape cases but millions of cases go unreported. Less than 4,200 convictions. Pathetic, absolutely pathetic," Natarajan said.
Stating that one has to take "people along" in democracy, the Environment Minister said, "We are trying to change the system, we are fighting, there is a rule of law, we are fighting to change the law. Every time we talk about changing the provisions of the law, there are 100 of people who say there is a rule of law in this country."
She also retorted the comments that the cases will take years to reach the punishment state.
"I don't know why you say that the case will go on forever. There is a day-to-day trial and punishment will happen," she said.
Irani accepted Natarajan's view of upholding the democracy even while giving punishment to criminal.
"This is the price we pay for a democracy that we even uphold the rights of a rapist," she said.
The two leaders were unanimous on gender sensitisation and increasing participation of women in day-to-day decision making process.
"Gender sensitisation is the collective responsibility of both men and women politician," Irani said.
Natarajan also condemned the remarks made by Congress MP Sanjay Nirupam against Irani and Gujarat Chief Minister Narendra Modi against Sunanda Tharoor, wife of Union Minister Shashi Tharoor.
"What Sanjay Nirupam said to Smriti Irani was highly objectionable. I condemn it. I equally condemn Modi's statement," she said.
The Congress MP had questioned the credentials of Irani to analyse poll results given her background as a TV actress.
Modi while addressing an election rally in Gujarat had targeted Tharoor by saying his wife was once his "50-crore-rupee girlfriend".
Image: Union Minister Jayanthi Natarajan