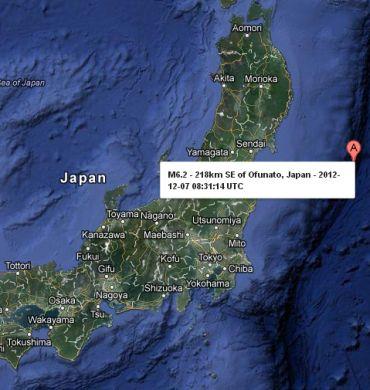 A strong earthquake measuring 7.3 on the Richter scale struck northeastern Japan on Friday. 

A 1 metre high tsunami hit Miyagi prefecture soon after.

The earthquake occurred at 5:18 pm Japan time (1:50 pm IST), off the coast of northeastern Japan. The same area was hit by a magnitude-9 quake and tsunami on March 11 last year.
A tsunami warning has been issued for coastal areas of Miyagi Prefecture.

The Meteorological Agency says a one-meter-high tsunami could hit coastal areas of Miyagi prefecture. People there have been urged to flee to higher ground immediately.

Tsunami advisories are also in place for Pacific coastal areas of Iwate, Fukushima, Aomori and Ibaraki prefectures.
The earthquake had a preliminary magnitude of 7.3, the US Geological Survey said. That was revised from an earlier estimate of 7.4.
The quake shook buildings as far away as Tokyo and Shinkansen bullet trains have been suspended between Tokyo and Odawara.


Nuclear plant operator Tokyo Electric Power said there were no reports of further damage at the crippled Fukushima nuclear plant.


The Pacific Tsunami Warning Centre says there is no risk of a Pacific-wide tsunami from the quake.

Image Courtesy: Google Maps