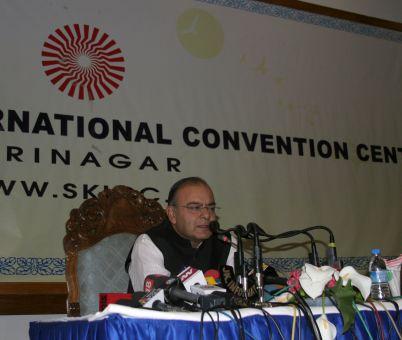 Talking tough from the Kashmir border, Defence Minister Arun Jaitley said that unless violations along the ceasefire halted, dialogue could not progress.
In the state on a two-day visit, Defence Minister Arun Jaitley expressed optimism at the overall security situation in Jammu and Kashmir and said that the government was ready to hold dialogue with anyone who was within the country's framework.
Addressing a media conference, Jaitley said, "After reviewing the overall security scenario with security agencies, I am optimistic about the situation in the state. Lok Sabha elections were held peacefully and by our assessments, the annual Amarnath Yatra will also be peaceful."
When asked about the ceasefire violations along the Line of Control, the defence minister said that "these violations must stop. That in itself is a confidence building measure before any country can proceed further".
He replied in the negative when asked if dialogue with Pakistan would go ahead if the ceasefire violations along the LoC and infiltration in Jammu and Kashmir continued and that there could not be any compromise on the issue.
When asked about the provocative Al Qaeda videos, the Defence Minister said, "Obviously there are forced inimical to India, who would not like peace to prevail. But we are strong enough not to allow them to foment trouble."
Responding to allegations that his visit was political in nature, Jaitley said that there was no 'political objective to his visit to Jammu and Kashmir'. "I came here only to review the security situation."
He added that he had visited the forward areas on Sunday morning where the Army troops have dominance to halt the militant infiltrations. He also visited the headquarters of Chinar Corps where he was given a comprehensive briefing on the overall security situation in the Valley, including the counter infiltration grid along the LoC and counter terrorism grid in the hinterland, according to a defence spokesman.
Image: Defence Minister Arun Jaitley addresses the media after his security review meet in Srinagar. Photograph: Umar Ganie