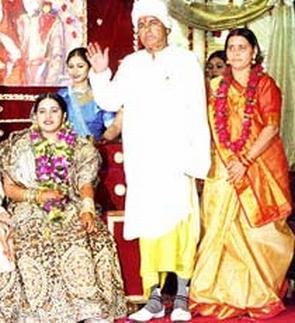 Rashtriya Janata Dal chief Lalu Prasad's wife Rabri Devi and elder daughter Misa Bharti will contest the Lok Sabha polls, the party's first list of candidates has revealed.
Misa will contest from the Patliputra in Patna, considered the bastion of long-time RJD loyalist Ram Kirpal Yadav.
Rabri Devi, former Bihar chief minister, will contest from Saran.
Lalu had contested the 2009 Lok Sabha polls from Saran, and won comfortably as the constituency is dominated by members of the Yadav community.
Lalu was forced to step down as a parliamentarian after he was recently found guilty in connection to the multi-crore fodder scam case last year.
He was jailed for five years and disqualified from contesting elections.
He was released on bail in January.
Incidentally, Ram Kirpal Yadav had been denied the chance to contest from Patliputra in 2009 as well, as Lalu himself wanted to contest from the seat.
The RJD chief had, however, lost from Patliputra.
Angry over the party denying him a ticket again, Ram Kirpal Yadav has reportedly resigned from the RJD.
He is likely to join the Bharatiya Janata Party, which may field him against Misa Bharti in Patliputra.
Lalu was also keen to field Tejasvi Yadav, but his son is too young to be eligible to contest the Lok Sabha polls.
The RJD has given tickets to its three sitting party Members of Parliament including former Union minister Raghuvansh Prasad Singh from Vaishali, Jagdanand Singh from Buxar seat and Prabhunath Singh from Maharajganj seat.
The RJD has again fielded criminal-turned-politician Mohammad Shahabuddin's wife Hina Sahab from the don's stronghold of Siwan.
Image: Lalu Prasad and Rabri Devi at their daughter Misa's wedding