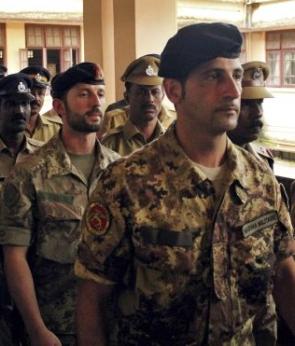 Italy on Tuesday recalled its ambassador to India for consultations and asserted that it will deal with the situation of "ambiguous and unreliable" behaviour by Indian authorities.
"The Italian government has ordered the immediate recall of its ambassador in India, Daniele Mancini, for consultations," Italian Minister of Foreign Affairs Emma Bonino said after the Supreme Court in New Delhi postponed the hearing involving marines Massimiliano Latorre and Salvatore Girone, who are facing murder charges, till February 24.
"The main objective of Italy is to ensure the return of the two Riflemen," Banino said, adding that "given the inability of India to manage the affair, Italy will continue and intensify its commitment to the recognition of their rights as a sovereign state in accordance with international law."
Expressing disappointment, Italian government's envoy on the marines issue Staffan De Mistura said, "Rome will decide in the coming hours the line to get in front of this situation," Italian news agency ANSA reported.
Justifying the ambassador's "recall", Italian Defence Minister Mario Mauro said, "The decision of the Italian government to recall the ambassador to Italy is not only justified but it is unavoidable and it reflects the sentiment of our people."
"The measure is full and even greater is the outrage that invests across the nation and which can not propagate to the entire international community. Upon this case there is no
justice, we are faced with a behaviour ambiguous and unreliable by the Indian authorities," Mauro was quoted as saying by ANSA.
Meanwhile, in New Delhi, official sources said the ministry of external affairs has not been informed by Italy about the move.
"There is no need for the Italian government to inform MEA if they are calling their ambassador for consultations," they said.
Latorre and Girone are facing trial for allegedly killing two Indian fishermen in February 2012.
Italy has registered a strong protest against India for slapping the provisions of the Suppression of Unlawful Acts against Safety of Maritime Navigation and Fixed Platforms on Continental Shelf Act against the marines asserting that these provisions are slapped against pirates and its marines are not pirates.
Italy has also lobbied with the European Union and the United Nations in this regard.