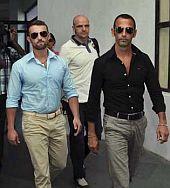 Amid the controversy over Rome's refusal to send back its two marines, the mayor of their home town Taranto in Italy has offered to provide education to the orphaned children of the two Kerala fishermen, according to an Italian news agency.
Mayor Ippazio Stefano of Italian city Taranto has written to Prime Minister Manmohan Singh saying his city is ready to welcome the "unfortunate children" of the two fishermen to study there, news agency Adnkronos International has reported.
"Our whole city is ready to welcome the unfortunate children of the fishermen to study here," Stefano reportedly wrote in the letter.
The mayor also expressed his regret over the incident in which the two Italian marines Massimiliano Latorre and Salvatore Girone -- deployed on an oil tanker -- had gunned down two fishermen off the Kerala coast in February last year, the agency said.
"I must express my profound regret for what has happened and do not hesitate to reaffirm by personal regard -- and that of the city I represent -- for the Indian people," he reportedly said, adding, "Friendship between our two countries has been extensive, sincere and loyal, in every area."
He also praised India for the role its soldiers played in liberating Italy at the end of World War II.