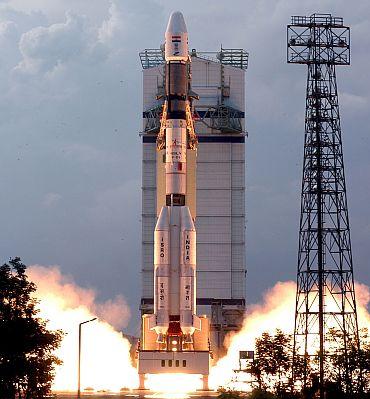 The Indian Space Research Organisation successfully put India's heavy rocket Geosynchronous Satellite Launch Vehicle-Development 5 (GSLV-D5) into orbit from the spaceport at Sriharikota, Andhra Pradesh at 4.18 pm on Sunday.
The launch was crucial for India as it seeks to prove the design, realisation and sustained firing of its indigenously built cryogenic engine after two back-to-back failures of the GSLV flights in 2010 -- the first, with an indigenous cryogenic engine, on April 15 and the next -- with a Russian cryogenic engine, on December 25.
The launch of the last GSLV was called off at the eleventh hour due to a fuel leak in its second stage -- in a setback to the mission to test its homegrown cryogenic engine -- after its failure three years ago.
Four of the GSAT-14s predecessors were successfully launched by GSLV during 2001, 2003, 2004 and 2007 respectively. The main objective of today's GSAT-14 mission was to augment in-orbit capacity of Extended C and Ku-band transponders and provide a platform for new experiments.
The GSLV is a three stage/engine rocket. The first stage is fired with solid fuel, the second is the liquid fuel and the third stage is the cryogenic engine. Geosynchronous satellites are placed in orbits 36,000 km above the earth.
With inputs from PTI.