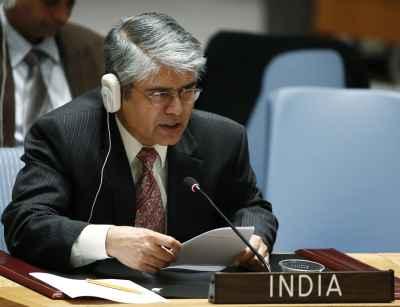 Days after India voted against it at the United Nations, Israel on Sunday hoped the Indian decision would not impact on the robust Indo-Israel ties in strategic areas of defence and security, to which they have added some more "ingredients" in the past few months.
Noting that Israel was in touch with Indian government at various levels "before, during and after the voting" on the UN Human Rights Council resolution to launch a probe into Israel's offensive on Gaza, newly-appointed Israeli Ambassador Daniel Carmon says his country would appreciate better understanding among its international interlocutors on its role in the current Gaza conflict.
However, Carmon, who assumed charge 10 days back, did not comment on whether he conveyed Israel's disappointment to Indian interlocutors after New Delhi voted against Jerusalem and said, "We have expressed to all our interlocutors including in India, how we feel about the conflict, sources of the conflict...and we will continue doing so."
Criticising the United Nations for allegedly indulging in "Israel-bashing", the Israeli ambassador told PTI in an interview that "I don't like the voting and resolution. For many years what is going on in the UN is very much politicised.....We did not like the result of international community (voting) on the resolution. We have the mission to make our interlocutors understand (our stand)...
"We expect the support and understanding of our friends and interlocutors all over the world to the need of Israel to safeguard (its interest)."
India joined Brazil, Russia, China and South Africa to vote for a Palestinian-drafted resolution on "Ensuring Respect for international law in The Occupied Palestinian Territories, including East Jerusalem".
In the 47-member council, 29 countries voted in support of the resolution while 17 nations abstained. The US was the only nation to vote against the resolution. The European Union-bloc also abstained.
Asked if India's stand would adversely impact Indo-Israel bilateral ties, of which defence and security were the cornerstone, he said, "I hope not."
He further went on to add that the two countries, in past few months, have added some more "ingredients" to homeland security especially counter-terrorism and other strategic areas. However, he did not elaborate.
India imports critical defence technology from Israel, which is emerging as India's second-largest arms supplier, behind only Russia, with bilateral arms trade over the last decade estimated at $10 billion, according to reports.
Image: India's Ambassador to the United Nations Asoke Kumar Mukerji addresses the UN Security Council during a meeting on Gaza conflict on July 22.
Photo: Eduardo Munoz/Reuters