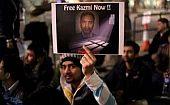 Journalist Syed Mohammad Kazmi, an accused in the Israeli diplomat attack case, on Tuesday sought to be discharged from the case as he told a Delhi court that the police are yet to obtain sanction for his prosecution under the Explosive Substances Act.
Arguing before Additional Sessions Judge Kaveri Baweja, Kazmi's counsel Mehmood Pracha submitted "the police have failed to file on record sanction for his (Kazmi) prosecution under the Explosive Substances Act (ESA).

"In the absence thereof, the accused is liable to be discharged. He has a right to be discharged", he said.

Additional Public Prosecutor Rajiv Mohan, however, argued "the case is at the stage of argument on framing of charges and the absence of sanction for prosecution does not bar the court from proceeding with the argument on charge."

He said "the absence of sanction only bars commencement of trial and added the sanction would be filed in the court soon."
The court has now fixed the matter for November 22.


Meanwhile, Kazmi, who was granted bail by the Supreme Court on October 19, moved a plea for travelling for a month to various places in Uttar Pradesh for Tajia on the occasion of Muharram.

The court has directed the investigating officer to get the places of visit and dates of travel inquired into before it passes any direction on the application.
Kazmi also told the court that he apprehends threat to his life and that of his family and needs protection. The court directed him to file a proper application detailing incidents of threat.
Kazmi has been charged under various provisions of the anti-terror law Unlawful Activities Prevention Act and other sections of Indian Penal Code including attempt to murder.
He has also been named in the charge sheet as an offender under the Explosive Substances Act.