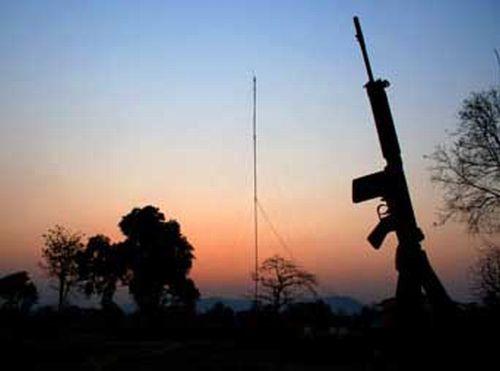 A couple of years ago when the Telangana movement was at its peak, there was much talk that its formation could lead to the rise of a Naxal movement. Many Telangana supporters dismissed this view, stating that this was just another ploy by the Union government to stall the formation of the state. Vicky Nanjappa reports
The Naxals may have been neutralised to a large extent, but the security agencies are not taking any chances and say that it is better to be safe than sorry. The worry for the security agencies is that the Naxals have formed a new committee. The Maoist North Telangana Special Zone Committee state committee, headed by Prasada Rao alias Chandranna has been trying to make inroads in some areas of the region.
Intelligence inputs would suggest that there are over 130 cadres in this new committee and are controlled by the leadership which is headed by Chandranna, Bandi Prakash, Shivareddy and Chokka Rao.
"They have been making efforts to revive the movement since the past three years after Andhra Pradesh dealt with them in a tough manner. There are some areas of concern especially in Adilabad, Nizamabad, Karimnagar, Warangal and Khammam districts. The strategy by the Naxals in these areas has been somewhat different," says an officer who is a part of the anti-Naxal operations.
"They have not tried to strike in the Telangana region or the rest of the state, but we have noticed movement in these areas. They are either collecting logistics or trying to ferry cadres into the neighbouring states where they have upped their ante. Chattisgarh, Odisha and Maharashtra are the prime concerns of the security agencies and the Naxals are looking to disrupt polls there in a big manner," he adds.
"In the past few weeks, the Naxals have been holding meetings in the Telangana region seeking support for a poll boycott. However, the people of Telangana do not want any trouble and the formation of a state is first on their agenda. They want the elections to be peaceful, and their priority is to install a new government and ensure that the region prospers," says an Intelligence Bureau official.
Telangana leaders agree that although security needs to be tight, the general thinking among the people is that they would not support any movement that believes in violence. "The people are aware that they will become a laughing stock if they let anti-national elements win," a Telangana leaders points out. The patrolling by security agencies has been stepped up especially in the border areas as they feel that there could be some stray incidents in these regions.
"We are prepared for any eventuality and the support that we are getting from the people who have vowed not to extend logistic and local help to these Naxals is encouraging and makes our fight against them stronger," officers on duty against Naxals also point out.