Congress party vice president Rahul Gandhi's relations with senior leaders is deteriorating, so Priyanka Gandhi is tipped to be the bridge between the organisation, the government, and the Congress's first family, reports Renu Mittal.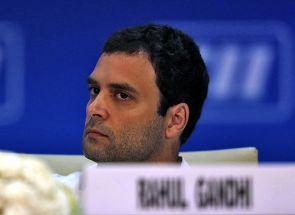 For the last couple of days Congress president Sonia Gandhi and daughter Priyanka Gandhi have been holding meetings with the party's vice president Rahul Gandhi at his home on Tughlak Lane in New Delhi.
The buzz in the party is that Rahul is angry and upset at the manner in which senior party leaders have not been implementing any of his decisions, which makes him appear as a non-serious player in the Congress and national politics.
There is also a virtual revolt within the party over Rahul Gandhi's style of functioning and his handling of senior leaders.
Rahul has been asking for a free hand in running the party, the government and the various decisions to be taken in the run-up to this summer's general election. Since that has not happened, the situation is beginning to look grim for him.
Sources say this is the reason why his sister Priyanka Gandhi has been brought in. She has been asked to intervene and act as a bridge or an interface between Rahul and senior party leaders.
Priyanka, a senior Congress leader told this correspondent, had a long and detailed discussion with senior party leaders to sort out some critical issues. These interactions are likely to continue in the days and weeks ahead.
Rahul Gandhi has, in the meanwhile, cancelled his tour of his Lok Sabha constituency, Amethi, for the time being.
There are reports that he wishes to shift to his mother's Rae Bareli constituency for this Lok Sabha election.
With Kumar Vishwas of the Aam Aadmi Party throwing his hat into the Amethi fray, an impression may gain ground that Rahul is shying away from such a contest.
Sources say the situation within the Congress has deteriorated dramatically since Rahul took charge of the organisation and began taking his own decisions.
"The Congress organisation is in a mood of vidhroh (revolt)," a senior leader said.
This likely explains why Union Minister Jairam Ramesh, who is said to be close to Rahul, was at the receiving end of a stinging attack from party general secretary Janardhan Dwivedi.
Dwivedi tore into Ramesh for praising the AAP and its leader Arvind Kejriwal, though he did not name Ramesh.
When asked about the praise of AAP by Ramesh and Prakash Karat, general secretary of the Communist Party of India-Marxist, Dwivedi said as far as Karat was concerned, anarchy and instability suited the politics of the CPI-M.
But referring to the Congress, he said, 'Ek ek worker dukhi hai, ek ek worker naraz hai aur ek ek worker ahat hai (each and every worker is sad, upset and amazed by Jairam's remarks).'
'Brahm un logon ko hai jo rajnitik karyakarta nahin hai, jinhone kabhi rajnitik sanghursh nahin kiya hai. Jinko yeh mehsoos nahin hai ki kitni mehnat, kitna sangharsh aur kitni ghasitai ke baad ek party khadi hoti hai (Only those workers are in doubt who aren't political workers, who haven't struggled in politics. They don't know after so much hard work, struggle and suffering the party is born).'
Ramesh is not only close to Rahul, but also provides inputs for his speeches and briefs him regularly. Dwivedi's remarks against the former clearly indicate the Congress old guard's displeasure.
While Sonia Gandhi is a traditionalist, a mature peacemaker who feels the senior leaders cannot be sidelined and has a softer approach to running the party, Rahul Gandhi is more utopian. He has a cut-and-dry solution to problems.
He feels the Congress organisation should be separate from the government and does not want anyone contesting elections to be a part of the organisation.
His core team consists of individuals who have all studied abroad and have a corporate approach to political issues.
Priyanka Gandhi is a different kettle of fish. She says the toughest things with a smile and gets work done by taking everyone along. She is known to be well-informed about the activities of senior leaders and keeps tabs on whatever is going on within the party.
She has an office at Jawahar Bhawan where she goes daily. She meets a number of Congress leaders who report to her on what is going on.
She is now tipped to be the madhyastha, the go-between, the bridge between the organisation, the government, and the family.
In the new scheme of things a party official described her as the 'asha ki kendra bindu (ray of hope).'
There is speculation on whether she will contest the Lok Sabha election in place of her mother and whether she is being inducted into the Congress Working Committee.
Whatever role she chooses, the Priyanka factor is now well within the Congress framework and the objective is to increase the Congress seats from 70, the figure revealed by internal surveys, to at least 125, to give the party a respectable total with which to keep its presence relevant in the post-poll scenario.