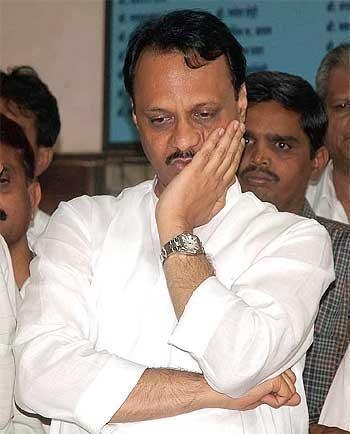 Maharashtra Deputy Chief Minister Ajit Pawar today resigned amid allegations of irregularities in granting administrative approvals for projects involving several crore of rupees during his decade-long tenure as irrigation minister and said he was ready to face a CBI probe.
Pawar sprang a surprise by announcing his resignation at a hurriedly-called press conference following media reports pointing finger at him over the alleged scam, but said he would continue to lead the NCP legislature party as long as he enjoys its support.
He also ruled out any threat to the stability of the Congress-NCP government following his resignation.
"My conscience does not permit me to stay on as minister. People of the state consider me as a leader who does what he says. I don't want my image to be tarnished and the resignation will send a message to the people that I am not after positions of power," Pawar, nephew of Union Minister and NCP chief Sharad Pawar, said.
"I will now be an ordinary NCP legislator. This will enable me to devote more time to party work," Pawar said, adding he was ready for a probe by any agency including the CBI.
Pawar, whose party has been running an uneasy coalition dispensation headed by the Congress in the state, however, said there was no threat to the government. "The government is stable," he added.
Responding to a volley of questions, he said he did not feel that Chief Minister Prithviraj Chavan or the Congress party was responsible for attempting to tarnish his image.
"But NCP is growing and some people cannot digest this fact," he said, without naming those whom he suspected were behind the move.
Pawar said he had sent his resignation letter to chief minister's office and, as Chavan was not in Mumbai, it was handed over to his principal secretary AK Jain.
Meanwhile, Opposition parties in Maharashtra welcomed deputy Chief Minister Ajit Pawar's resignation in the wake of corruption allegations in irrigation projects saying the truth must come out.
"Be it a court stricture or the CM's talk of white paper on irrigation, any proper inquiry can't take place when the minister is in office," state unit BJP chief Sudhir Mungantiwar said.
"It is good that he has resigned," he said, adding the truth (in the alleged irrigation scam) should come out.
Image: Ajit Pawar