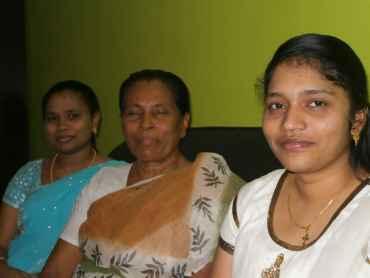 Although Lesima Jerose Monisha is relieved that her worst days are over after she along with her 45 colleagues returned to India from warn-torn Iraq, she has no idea whether she'll ever get her four-and-half-months' salary that the Iraqi government owes her. Rediff.com's A Ganesh Nadar reports.
Lesima Jerose Monisha welcomes us with a warm smile -- her smile giving away nothing to indicate the unimaginable ordeal she went through in the last one month in strife-torn Iraq.
The young nurse from Tuticorin returned to India along with her 45 colleagues on Saturday after a four-and-a-half months stay in Iraq.
She remembers she was overjoyed when she got a job with the Iraqi government. Today although she has nothing to show of her stay there, she is relieved that the worst days of her life are over.
Monisha, with 45 other nurses from neighbouring Kerala, had joined the Government Hospital in Tikrit in central Iraq. The constant company of a large number of South Indians at the hospital made her feel at home; and internet and mobile phones kept her in constant touch with her family back home.
However, all wasn't well during the first three-and-half-months as none of the nurses received any salary.
On June 12 the Islamic State of Iraq and Syria fighters marched into Tikrit and "everything changed over night".
"The internet connection was the first to go and mobile towers functioned erratically. Contacting home now became a major problem," she says.
At that time Monisha spoke to Rediff.com over the phone and assured that they were well and there was nothing to fear. The invaders had left them alone to do their work. In fact, they had offered them jobs which none of them took up. They told the jihadists they just wanted to go home.
"The initial peace lasted barely a fortnight after which we realised that the roads were blocked and we could not leave at will," she says.
Meanwhile, the Iraqi government forces had regrouped by then to reclaim Tikrit from the clutches of the ISIS.
The peaceful hospital turned into hell and constant shelling , bomb explosions and gunshots all around scared the nurses to their wits' end.
"We thought we will die there."
The ISIS officers told them that they had to leave and they should come with them. "But we delayed them by saying that we needed the permission of the Indian embassy to leave the hospital," Monisha says.
The next day the ISIS soldiers again told them they had to leave. But this time when the nurses repeated that they needed Indian embassy's permission, they were clearly told that the next day they would be shifted, whether they liked it or not.
The nurses immediately informed the Indian embassy and also Kerala Chief Minister Oomen Chandy who was in constant touch with them.
Those who could get in touch with their families told them not to call for the next two days as they would be shifting. "We knew that the ISIS would not let us use our mobiles, so we took that precaution," says Monisha.
The next day they were hurdled out even amid heavy shelling all around. "We boarded a bus which took us to Mosul, an ISIS stronghold. There were no bombs exploding there," Monisha recollects.
The nurses stayed there overnight not knowing what was in store for them. The next day at 9 am the ISIS told them that they were being released.
They were then taken to the border of Mosul and handed over to the Indian embassy staff who were waiting for them.
"We laughed and cried in happiness. Those whose phones were still working called up their elated relatives back home," she recollects.
"The journey to home was like a dream" and they were welcomed back at Kochi airport by a huge crowd.
Monisha reached Tuticorin late on Saturday night to the welcoming arms of her family and neighbours who had stayed up to meet her.
However, she complains, "I was supposed to get a salary of Rs 50,000 per month. I worked for four-and-a-half months and so the Iraq government owes me Rs 225,000. I have no idea whether I will ever see that money."
She knows that an United Arab Emirates-based Indian national has offered jobs to all the 46 nurses. "The Kerala girls will take it up I think, I haven't decided yet," she says.
But Monisha's cousin chips in, "The Kerala nurses have also been offered government jobs in their state, they will not go."
"The salary is much higher there," says Monisha, wistfully knowing that her family will not allow her to go back.
The Punjab government has promised its workers in Iraq that they should just come back and any losses that they incur will be compensated by the administration.
And in Kerala the returning nurses have been given cash compensation, their education loans have been written off and they have been offered jobs.
However, Monisha has a loan of Rs 4.5 lakh to repay which she took from a nationalised bank to do her BSc (nursing). "I will pay them back, hope the Iraqis pay us," she says
To land the job in Iraq, Monisha paid Rs 160,000 to the Global Agency in Mehrauli, Delhi, whose owner has collected Rs 7,360,000 from the nurses to send them to Iraq.
"If he cannot get our salaries the least he can do is return the money he collected from us," Monisha says.
The government which has done an excellent job in rescuing the nurses must now try to get our money back from either the government of Iraq or the Global Agency in Delhi, she adds.
Image: Monisha (extreme right) with her mother and sister at their home in Tuticorin, Tamil Nadu.
Photograph: A Ganesh Nadar/Rediff.com.