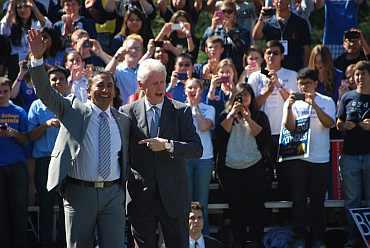 Dr Ami Bera, 45, the Elk Grove, California Democrat has created history by becoming the first Indian American physician to be elected to the United States Congress and only the third Indian American in the community's immigrant experience to have the distinction of being voted in to the US House of Representatives.
The
Associated Press
called the race for Bera over nine-term Republican incumbent Dane Lungren, 65, by a margin on 51.1 per cent to 48.9 per cent in one of California's most hotly contested Congressional races in that state's newly redrawn 7th district.
An elated Bera said, "It will be an honour to serve Sacramento County in the Congress. Now, is the time to find common ground and move forward to rebuild an economy that works for the middle class."
Bera, who had lost to Lungren in 2010 when he took on the veteran GOP lawmaker and this time around too was engaged in one of the most vitriolic races with negative ads by both sides permeating the airwaves and television, on being declared the winner by
AP
, said, "Congressman Lungren deserves our appreciation for his long record of public service."
On Thursday, the Sacramento County registrar of voters announced that Bera had increased his lead against Lungren and was now ahead of the incumbent by 2.2 per cent or 5,696 votes.
Bera, whose lead has widened with each count, said, "It's increasingly clear that the voters of Sacramento County want new leadership that puts the people first," and noted, "Our lead continues to widen and we are confident that this election will be resolved in our favour."
"The people at the Sacramento County registrar of voters have exemplified fairness and transparency throughout this process," he added.
In the wee hours of November 7, Bera was ahead of Lungren by a wafer-thin majority of 184 votes and the result hung on the tens of thousands of provisional and absentee ballots that had to be counted, Lungren had refused to concede and give Bera the honour of being the only Indian American among six aspirants to have prevailed in winning a seat to the US Congress.
During the counting after the polls closed on November 6, both Bera and Lungren led at various stages until Bera was ahead by 184 votes or 50.05 to 49.95 per cent with 100 per cent of the precincts reporting at 1.28 am, and the election result now hinged on the counting of the provisional ballots estimated at over 75,000.
At the end of the first count of the provisional and absentee ballots on November 13, Bera increased his lead against Lungren to 3,824 votes and was ahead by more than 1.5
per cent.
In an exclusive interview with
rediff.com
on November 7, Bera, whose campaign was buoyed by the endorsement of President Bill Clinton, said the provisional ballots to be counted "should lean in the Democratic direction and these are votes that we should get," and hence he was confident of victory and coming to Washington and creating history.
At the time, asked if he felt a sense of frustration that the situation had now become complicated and he could garner sufficient votes to be the clear-cut winner, Bera said, "I feel no sense of frustration; it's all a sense of accomplishment."
"We put together a phenomenal campaign and we had a wonderful group of volunteers who came together across the entire spectrum of diversity and the hardest working campaign staff in the country and we have accomplished something monumental," he said.
Obviously confident that he would ultimately prevail, the Democratic leadership in the US House of Representatives last week invited Bera to come to Washington, DC to participate in the orientation programmr for the new lawmakers, which also included Tulsi Gabbard, the first Hindu American elected to the US Congress.
The same day on November 13, both Bera and Gabbard also attended their first White House Diwali celebration and met US Vice President Joe Biden, who was playing host and several lawmakers who were also attending, including New York Democrat Carolyn Maloney.
Immediately after that meeting, Maloney sent out a missive to her friends and supporters exhorting their support for Bera.
Maloney wrote, "I am writing to enlist your support for Dr Ami Bera, who is in the midst of an extended vote count in his race to represent the people of California's 7th Congressional district."
She said, "Dr Bera currently leads his opponent by more than 3,800 votes, but Republicans are still refusing to concede the race and Dr Bera needs our help to ensure that the will of the voters are not overturned."
Maloney said, "Dr Bera is an absolute standout. He is a first generation Indian America, a doctor, a teacher, and a dedicated leader in his community.
He is also determined to see to it that we make the badly needed investments in our infrastructure and public education system that are necessary for America to continue to lead the world in innovation and prosperity."
Image: Former President Bill Clinton campaigns for Ami Bera