BJP president Rajnath Singh has said that if the party comes to power in the next general election, its foreign policy wouldn't be much different from that of the Congress government. Aziz Haniffa reports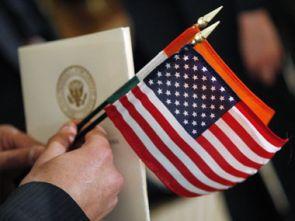 If the Bharatiya Janata Party comes to power in the next year's general election, its foreign policy would be no different from that of the current Congress-led government, especially vis-a-vis the United States, the BJP president Rajnath Singh said.
In a meeting with reporters in Washington DC, at the end of his interactions on Capitol Hill and at with leading think tanks, Singh said he did not foresee any major change in foreign policy in a BJP government, but noted, "The foreign policy or any other policy, the BJP members will sit together and take a decision."
"But as far as any change in foreign policy is concerned, there is not likely to be any basic fundamental change in principle. But whenever the other party comes, we will have our own perspective and decide accordingly," he said.
Singh said, "In 1998, when we came to power, we carried out the Pokhran (nuclear) test, which was very strongly against the wishes of the United States. But by the time we left office in 2004, we brought United States and India relations to such a historic level that we have become not only economic partners but strategic partners."
"So the direction has not changed, (but) the entire scenario was changed. We have protected our interests and also created friendship," he added.
Singh said, "The other example I would like to quote is of 2003, when Mr (Atal Bihari) Vajpayee (the prime minister) visited China for the first time after the 1962 war. China has not done anything that was in favour of India. But they forfeited their claim on Sikkim and they have agreed to open the Nathu La Pass. These are examples which you can envisage if we get the chance to come into the government in the next few years what will be the scenario of our foreign policy."
Asked what the BJP policy toward Pakistan would be, the BJP leader said, "We consider Pakistan our neighbour and we are always in favour of good relations with our neighboring state Pakistan."
Once again invoking Vajpayee, Singh recalled how the former prime minister had said that 'we can change our friends, but we cannot change our neighbours. So, we must have good relations with our neighbours.'
"So many initiatives were taken by successive Indian governments, and when the prime minister was there, he himself reached out to Pakistan in the Lahore bus, but somehow the response expected from Pakistan was never up to the mark. Pakistan didn't reciprocate in the same way."
On the civilian nuclear deal agreement, which five years after its signing, remains in limbo with regard to its implementation because of Washington's concern over India's liability law, Singh made clear there would be no compromise on this law.
But, he noted that according to media reports, Finance Minister P Chidambaram, who was in Washington recently was in discussion with Obama administration officials and US lawmakers on how to move this accord forward.
"As far as this civil nuclear liability bill is concerned," Singh said, "there was news that Mr Chidambaram was here in the United States and he has assured that he will have some sort of negotiations and discussions on this issue with the US administration."
But, he asserted, "Our stand on this nuclear liability bill, whatever is being done is being done as per the law passed by the Indian Parliament. So, nothing can be done, which can be said to be transcending the limits of the law."
Singh also made clear that the BJP, contrary to some contentions, "is completely pro-economic reforms," although it had concerns over FDI in multi-brand retail because traditional sectors in India could be affected and give rise to massive unemployment.
He recalled that it was prime minister Vajpayee who had infused "fresh momentum to economic reforms."
Singh also said the government's contention that BJP was a spoiler in Parliament, opposing economic reforms, was a canard. "This is not the case and in what context they (the government) have said this, we don't understand."
"I would like to cite just two examples -- they got the FDI in retail bill passed despite full opposition by the BJP, and they have got the civil nuclear deal passed, despite the opposition of the BJP. So, where was the issue that we were putting a burden and that because of us they were not able to get things passed. In whatever they were interested, they got it passed," he said.
Singh also denied that the BJP would roll back social and welfare programs and asserted that "we will always take care of the downtrodden and the deprived sectors of society."
"In principle, we will strengthen them, but we will find out ways to strengthen them with the intrinsic and inherent power." He cited as examples the state of Chhattisgarh, one of the most backward states, "it has food security cover for 90 percent of the people and we have provided it successfully. It has become an example all over India."
Singh said, in Madhya Pradesh, "we have first taken the agriculture growth rate from 3 plus percent to a stupendous 18.90 percent and this year Madhya Pradesh has become the biggest contributor of foodgrain in India. Six months back the Madhya Pradesh government has introduced the food security bill."
"It means we have provided food security to the downtrodden but also by increasing the intrinsic strength and reducing the financial burden," he added.