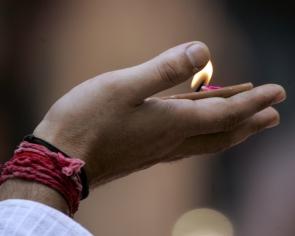 As many as 163 Vedic pandits, who were brought to the United States from north Indian villages, have disappeared from the Maharishi Vedic City in Iowa during the past year, according to a media report.
In an investigative report, Chicago-based ethnic weekly newspaper Hi India alleged that the Vedic pandits brought to the US lived in pathetic conditions and were paid less than 75 cents an hour.
"They have jumped the fence for immigration purposes or for chasing their American Dream," the head of the university was quoted as saying by the newspaper.
There was no immediate reaction from the Maharishi Vedic City, where some 1,050 pandits are engaged in a transcendental meditation programme claiming to "bring about peace on earth where there will be no war".
The university did not respond to an email and voice mail from PTI.
The Global Country of World Peace -- one of the many teaching centers set up by late Maharishi Mahesh Yogi -- is not aware of the plight of these pandits, some of whom are as young as 19 years, the report said.
Quoting an unnamed pandit, the report gave details of the modus operandi of the institute and how the Indians are brought to the US.
On their arrival, the Indians are kept in makeshift trailers under round-the-clock surveillance. Before coming to the US, they are asked to sign a contract whereby they are promised a compensation of $50 while in the US and another $150 in India.
"If the Pandit 'behaves well', his so-called compensation for two years is given to him or his family on his return from the US. The contract is prepared in a way to obtain visa," Hi India reported.

Image: Representation picture