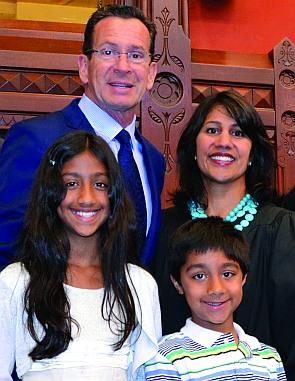 Rupal Shah Palanki was officially sworn in as a judge of the superior court of Connecticut, United States recently.
She was nominated by Governor Daniel P Malloy in March and was confirmed unanimously by the Connecticut House of Representatives and the Senate on April 29.
Judge Shah Palanki served in the Rockville Superior Court.
"This is definitely a special moment for the South Asian community," said State Representative Dr Prasad Srinivasan.

"I had the privilege to speak on the floor of the House on behalf of Rupal Shah Palanki and was very thrilled to see her being nominated unanimously by both the Houses. Rupal was raised in Glastonbury, my district, and has always been involved in public work. I knew that it was just a question of time before she became a judge."
Shah Palanki was an assistant attorney general with the Connecticut Attorney General's Office, where she had been serving since 2003.

Prior to that, she was an associate with the law firms of Bingham McCutcheon and Cohn, Birnbaum & Shea. She graduated from Glastonbury High School in 1991, received her bachelor's degree from College of the Holy Cross in 1995, and her law degree from Georgetown University Law Centre in 1999.
For the last four years, her practice has focused on securities fraud litigation. She was also a member of President Barack Obama's federal-state task force investigating the residential mortgage backed securities market.
Her first six years with the attorney general's office were primarily spent representing Connecticut on the tobacco settlement and related multi-state litigation.
Shah Palanki also served as a director of the South Asian Bar Association of Connecticut. She received SABAC's annual community service award in 2008, and was the organization's president in 2009.
Her husband Chandramohan Palanki is an information-technology professional. They have two children, Maya and Mohan.
Shah Palanki's father Sudhir Shah came to the US in 1966 for higher studies in civil engineering. He retired as vice president of a consulting firm. Her mother Jyotsna she worked in the computer field.