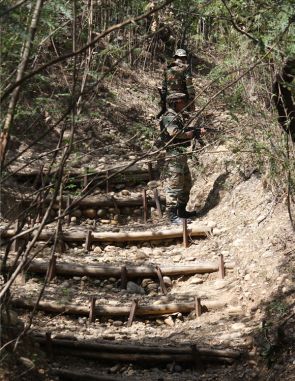 The Pakistan Army has claimed that Indian troops killed two of its soldiers on the Line of Control.

The military said a soldier was killed and two more were injured in what it described as "unprovoked firing" by Indian troops in Tatta Pani sector of the LoC on Thursday evening.

Pakistani troops responded "effectively" to the Indian firing, the Inter-Services Public Relations said.

Earlier in the day, the Pakistani military said a soldier was killed in Rakhcahri sector
of the LoC near Rawalakot.
Indian High Commissioner T C A Raghavan was called in to the Foreign Office to protest the firing in Rakhcahri sector.
On Wednesday, an army captain was killed in shelling by Indian troops.
Pakistan protested the incident by summoning the Indian Deputy High Commissioner to the Foreign Office.
The latest deaths were reported shortly after the lower house of Pakistan's parliament passed a resolution that deplored the death of the captain as an "act of aggression" and called for a "constructive" engagement with India.