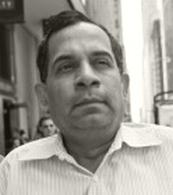 Karnataka-born Raghuveer Nayak tells judge he wants to die. Rediff.com's Arthur J Pais reports.
Raghuveer Nayak, an Indian-American multi-millionaire, was sentenced to two years in prison and fined $500,000 in a medical scam by a federal judge in Chicago on Monday.
Nayak, who allegedly tried to buy the Senate seat in Illinois vacated by then United States Senator Barack Obama for another US Congressman, told the judge during the hearing, 'I just want to die.'
He said he had become so despondent in recent years -- thanks to the medical fraud case against him and the threat of a lawsuit in the attempted bribery case -- that he had become an alcoholic.
With his voice shaking and his body slouching, the 59-year-old millionaire, who lives in a gated community in an affluent township near Chicago, said he was scared to drink a cup of coffee as he feared breaking any more laws, a report in the Chicago Tribune said.
Nayak was not charged over the Senate seat bribery, though the accusations came up during his trial for medical fraud.
The prosecutors alleged that he offered to raise $1 million for the re-election of the Illinois governor if the latter appointed Jessie Jackson Jr to serve as a US Senator when Obama resigned after he was elected to the Presidency.
For reasons best known to the government, Nayak was not charged in the bribery case.
But the medical fraud case was pursued vigorously, with the prosecutors asking for a six year prison term for the pharmacist and lab owner.
Nayak was freed on $10 million bail. He is expected to be imprisoned in a medium security prison.
Nayak, who built a fortune in the last two-and-a-half decades, emerged as a significant fundraiser in Chicago nearly six years ago.
He reportedly offered cash to former Illinois governor Rod Blagojevich, who is serving a 14-year prison sentence for bribery, for favouring Jackson.
The medical fraud case was unearthed by the Federal Bureau of Investigation, which alleged that Nayak had paid doctors bribes for referrals to his chain of outpatient surgery centres.
Nayak, who studied in Karnataka and has a degree in pharmaceutical studies, reportedly had connections with many politicians close to Obama.
The judge said he didn't put much weight on Nayak's role in the Blagojevich scandal while determining his sentence, the Chicago Tribune stated.