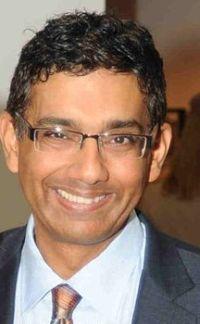 Indian-American filmmaker Dinesh D'Souza, who had made a documentary on US President Barack Obama, has been indicted on charges of violating federal campaign finance laws.
The filmmaker from San Diego, California has been charged with one count of causing $20,000 in illegal campaign contributions to be made to a candidate for the US Senate in 2012, Manhattan's India-born prosecutor Preet Bharara said.
The charge carries a maximum sentence of two years in prison.
The 52-year-old filmmaker is also charged with one count of making false statements to the Federal Election Commission in connection with the illegal campaign contributions, which carries a maximum sentence of five years in prison.
A former president of The King's College in New York, D'Souza is expected to be presented and arraigned today in Manhattan court before US District Judge Richard Berman.
In announcing the indictment, Bharara said his office and the FBI have a "zero tolerance approach to corruption of the electoral process. If, as alleged, the defendant directed others to make contributions to a Senate campaign and reimbursed them, that is a serious violation of federal campaign finance laws."
FBI Assistant Director-in-Charge George Venizelos said D'Souza finds himself on the wrong side of the law since trying to influence elections through bogus campaign contributions is a serious crime.
D'Souza, who is also a best-selling conservative author, had come in for severe criticism for his 2012 documentary '2016: Obama's America', with the Obama campaign accusing him of launching a smear campaign against the President and alleging that the movie was a deliberate distortion of Obama's record and world view.
The documentary had equated reelection of Obama with the death and dismemberment of the US and had been running at number three on the top movies list when it was released.
D'Souza's lawyer said in a statement quoted by New York Times that his client did not act with any corrupt or criminal intent.
"He and the candidate have been friends since their college days, and at most, this was an act of misguided friendship by D'Souza," his lawyer Benjamin Brafman said in the statement.
The Senate candidate was not identified in the indictment.
A report in the NYT said D'Souza had donated to only one federal candidate in 2012, giving $5,000 to Wendy Long, a New York Republican who lost her challenge to democratic Senator Kirsten Gillibrand.
According to the allegations in the indictment, the Election Act had in 2012 limited both primary and general election campaign contributions to a total of $5,000 from any individual to any one candidate.
However, in August 2012, D'Souza directed other individuals with whom he was associated to make contributions to the campaign committee for a candidate for the US Senate that totalled $20,000.