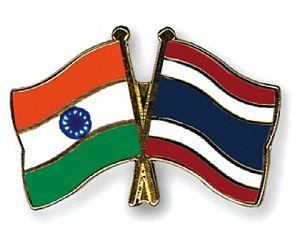 India and Thailand are on the verge of ratifying a treaty, seen as extremely significant by both the countries, that would enable them to swap prisoners.
There are currently 60 Indians serving terms in Thai prisons mostly on charges of drug trafficking and a few attempted murder and theft.
When ratified, the 'Treaty on transfer of sentenced persons' will enable the swap of prisoners which will be strictly done on a case by case basis, depending on the nature of crime they would have committed.
The swap will be decided by the "sending state, receiving state and person involved", sources told PTI.
Mostly prisoners who would have served minimum sentence and at least one year of sentence remained would be eligible under the treaty.
Thai laws are extremely strict especially for drug mules, theft and murder.
The Embassy of India here has said it has been in constant touch with

all Indian nationals currently in Thai prisons with an embassy member visiting them once or twice a month.
Embassy sources said they facilitated medicines, brought magazines and distributed sweets during festivals.
The Embassy recently clarified that it had extended assistance in providing medical help to prisoner Hardyal Singh Dhindsa and also facilitated his meetings with his near ones.
The embassy said it had forwarded his appeal to the concerned local authorities for sympathetic consideration and that Dhindsa had constantly been updated of the developments.
The embassy has also forwarded the appeal of Daljeet Singh Dhaliwal to the local authorities in May 2012 and had been following up regularly and this had been conveyed to him too.
The embassy said another prisoner Jasbir Songh Dogra got parole which was to a "great extent" due to efforts made by the Embassy.
The sources said reports in the Indian media that prisoner Daljeet Singh had earlier asked for translation were not true as there was no record of such a request.