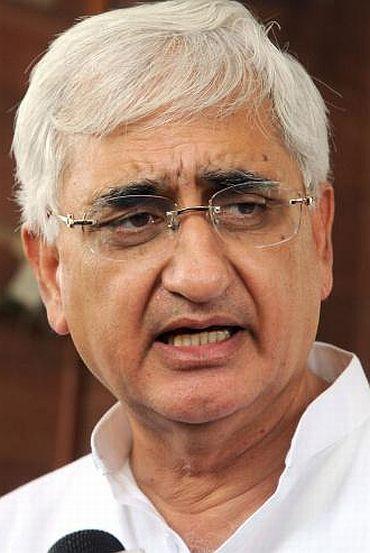 'It is my job to resolve the issue and we are looking at all options,' Foreign Minister Salman Khurshid tells Sheela Bhatt.
India is seeking a political solution to the visa issue," Foreign Minister Salman Khurshid told Rediff.com while commenting on diplomat Devyani Khobragade's legal case in the United States that has bedevilled ties between the two democracies.
Talking to Rediff.com, Khurshid gave a hint that the negotiations were on fast-track to settle the issue at the political level. There are demands from both sides to move towards a resolution of Khobragade's legal troubles so that the spiral effect from the episode doesn't hurt Indo-US relations.
Khurshid told Rediff.com, "It's my job to resolve the issue. We are looking at all options to arrive at an amicable solution."
Obviously, the bilateral relations between the two countries are too widespread and important to get bogged down by a legal case. But, after so much brouhaha over the maid servant Sangeeta Richard's allegations and the dispute over the visa-related papers prepared by the Indian diplomat Khobragde, it's clear that the American side feels they have a very strong legal case, while the Indian side feels that behind the legal maneuverings over the maid servant episode in New York is the politics played by Washington.
Indians and Americans are working behind the scenes to arrive at a solution where Khobragade's legal troubles remain "only on paper" and she is able to fly back to India. India has refused to go for a guilty-plea that directly or indirectly accepts any of the allegations against her, while the Americans want to see that their legal position is not undermined. A solution is being worked out that is a halfway point between the two positions so that both sides can declare victory.
Sources in the ministry of external affairs claim that Khobragade's possible return to India will help focus on serious bilateral issues. However, while the final solution will help the broader diplomatic goals on both sides, Devyani's personal issues will not entirely get resolved.
Her husband Akash Singh Rathore is an American-born wine expert and the couple have two children. After marriage, according to MEA rules, a diplomat's spouse is supposed to take up Indian citizenship. However, till the maid servant troubles started Devyani had not initiated the procedure.
If the final resolution of the Khobragade episode results in the implicit condition that Devyani's re-entry into America becomes impossible without her facing US laws, then it will impact her personal and social life, said the source in MEA.