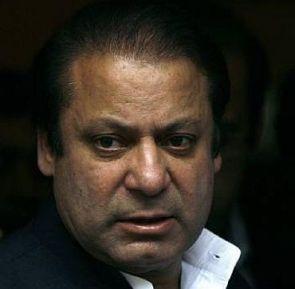 Prime Minister Nawaz Sharif sees his victory in Pakistan's election as a mandate for peace with India, saying an arms race between the two countries must end and they should settle their dispute over Kashmir.
"We've been in a very unfortunate arms race with India ever since Partition and I think we are a very unfortunate country from that point of view," he said.
"I think this must come to an end. The money wasted in defence should have gone into social sectors -- it should have gone into education, it should have gone into health care," Sharif said in his first interview with The Telegraph after becoming premier in June.
He made it clear that he "sees his election victory as a mandate for peace with India" and spoke with "genuine feeling about the need for reconciliation with Pakistan's oldest enemy", the British daily reported on Friday. The two countries should also "settle their conflict over Kashmir", he said.
Sharif's remarks came against the backdrop of tensions between the two countries over violations of the ceasefire along the Line of Control in Kashmir. Both sides have accused each other of violating the truce.
Sharif said both countries had "wasted so much money on military hardware" and building up their defences against each other.
"They've been running after MiG-29s, we've been running after F-16s; they've been buying more tanks and we've been buying more military hardware. We've been running after submarines -- how expensive they are, and then of course India was the first one to tread the nuclear path," he said.
Pakistan emerged as a nuclear power in 1998, during Sharif's last stint as premier, by triggering a series of nuclear blasts after similar tests by India.
But Sharif said, "There will be progress and there has to be progress...If we have to prosper, there has to be progress on this."
Sharif noted that Pakistan "didn't have any India-bashing slogans in the elections" held on May 11 that swept his Pakistan Muslim League-N party to power.
"We don't believe in such slogans. There have been such slogans in the past -- 10 years ago, 20 years ago, 30 years ago -- but not now. In fact, I very clearly spoke about good relations with India even before the elections were happening," he said.
Sharif said he had made his position very clear. "If we get a mandate, we will make sure we pick up the threads from where we left off in 1999 and then reach out to India, sit with them, resolve all our outstanding issues, including the issue of Kashmir, through peaceful means," he said.
The 63-year-old politician, who has become premier for a record third time, said he hoped India and Pakistan realise the "mistakes that we've made". "I think the main objective of making peace with each other is to get rid of all that. We've got to sit with India and discuss this matter (the arms race)," he said.
Last year, defence and debt repayments accounted for 54 per cent of Pakistan's federal budget while education received less than two per cent. Sharif said he wanted to cut defence spending but added: "This cannot be one-sided -- we have to do it together. India would also have to do it."
Asked whether the Pakistan army, a key player in politics and foreign policy, would accept peace with India and a budget cut, Sharif said, "We're all on one page. There's only one page and that is the page of the government of Pakistan."
Sharif said both countries should also stop the game of mutual recrimination. "Anything going wrong in India -- they blame us; anything going wrong in Pakistan -- we blame them. I think this blame game has to stop."
The premier also hinted that India was "behind terrorism inside Pakistan", the daily reported. "Our sources also tell me that there is a hidden hand of India in certain disturbances going on in Pakistan and the acts of terrorism which take place in many parts of Pakistan," he said without giving details.