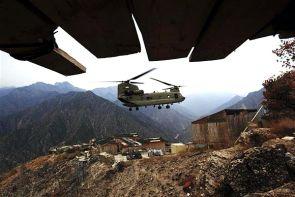 Senior United States lawmakers told a Capitol Hill conference that India was crucial for stability in Afghanistan and the region as US and North Atlantic Treaty Organization forces prepare to withdraw from that war ravaged country.
Washington, they said, would look toward New Delhi to play a major role in the upcoming transition.
The conference, 'Management of Transition and Ensuring Stability in Afghanistan and the Region: Security, Stability and Prosperity', was organized by the US-India Political Action Committee along with the American Foreign Policy Council and the Foundation for Indian and Indian Diaspora Studies.
US representative Eliot Engel (Democrat, New York), the ranking member on the House Foreign Affairs Committee, said there can be no stability nor free and fair elections in Afghanistan 'without the support of Afghanistan's neighbors, and this is why India is a critical element…This is where we look to India to play an important role.'
He added, "In the aftermath of the US intervention in 2001, some in the US viewed the Indian presence in Afghanistan as an irritant that complicated efforts to enhance stability, primarily due to the concerns generated in Pakistan. A decade later, there is a consensus that India is and will be a key partner in bringing and maintaining stability in Afghanistan."
India, he pointed out, "has provided more than $2 billion in developmental assistance to Afghanistan since 2002. India is by a considerable margin, the largest regional donor and the sixth largest bilateral donor in Afghan reconstruction. India's assistance has contributed to Afghanistan's infrastructure, including highways and hospitals, rural electricity projects. It is also helping the Afghan government rebuild its police force, its judiciary and diplomatic service."
Indian companies, he said, "have begin participating in Afghanistan's extraction industry and hope it will be an example to others on how to help Afghanistan benefit from its natural resource wealth to augment the resource curse that have plagued many other countries."
Regrettably, he said, "India's positive efforts in Afghanistan will generate intense suspicion in Pakistan, and Islamabad will maintain that India is trying to encircle its neighbour. I understand the long and difficult history between India and Pakistan, but these views are outdated and I hope they will become outdated in Pakistan as well."
"Only time will tell if Pakistan will change course - hope they will," he said, if Islamabad still expects US support.
Engel acknowledged some irritants, but said as in a relationship between a husband and wife or parents and children, he considers India and the US "as a family much, much more in common than the irritants that may disrupt some of the things."
He said "there is bipartisan support" in Congress "for the US-India relationship" and reiterated: "The United States is grateful for the positive and constructive role India has played in Afghanistan."
Another New York Democrat, US Representative Joe Crowley, co-chair of the India Caucus and vice-chair of the House Democratic Caucus, echoed Engel.
"We all want to avoid a situation where the Taliban controls Afghanistan and renews its war on women," Crowley said. He said Engel and his other 'good friend in Congress, Ami Bera, are working very hard on these issues, especially the Afghanistan-India issues. Ami has focused particularly on issues related to India-Afghanistan relationship and I was glad to discuss it with him after his recent trip to Kabul.'
"We got to pass old mindsets of zero-sum games," Crowley said. "India is doing a wonderful job of moving on. It's time for the whole region to do so as well… We need to get this right and India is the only country in the region that can help Afghanistan get this right."