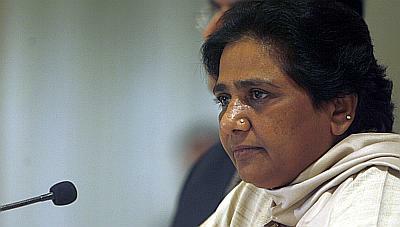 Post Nitish's exit, 17 parties plan to meet on Friday to formulate their future course of action. Congress president Sonia Gandhi has invited Sharad Yadav to join them, reports Archis Mohan.
The breaking of ranks by Bihar Chief Minister Nitish Kumar has jolted the Opposition but the 17 parties plan to meet on Friday to formulate their future course of action.
The centrepiece of this strategy is likely to be the Opposition unity rally of Rashtriya Janata Dal chief Lalu Prasad in Patna on August 27.
All top Opposition leaders are set to attend the rally.
Sources claimed the RJD chief might announce there that he would send Bahujan Samaj Party leader Mayawati to the Rajya Sabha from Bihar.
Mayawati had in July quit her Rajya Sabha seat.
Six Rajya Sabha members from Bihar retire in April 2018. Prasad's RJD, with Congress help, has the numbers to win at least three of the seats.
Opposition sources said Janata Dal-United leader Sharad Yadav has been invited by Congress President Sonia Gandhi to attend Friday's meeting. However, sources close to Yadav said the Rajya Sabha member is scheduled to be in Bihar on Friday.
Parliament's monsoon session ends on Friday.
"We would try to coordinate between Opposition political parties on the ground in the intervening period, from the end of the monsoon session to the beginning of the winter session in November," Trinamool Congress Rajya Sabha leader Derek O'Brien said.
West Bengal Chief Minister Mamata Banerjee would be in Delhi to attend the meeting.
Sharad Yadav had disapproved of party chief and Bihar CM Kumar's decision to ally with the BJP. He is to embark on a three-day tour across Bihar from Thursday.
It is likely that JD-U Rajya Sabha member Ali Anwar, who had also dissented with Kumar's decision, might attend the Opposition meet. JD-U spokesperson K C Tyagi refused to comment.
Lalu had said that Sharad Yadav would be welcome in his party. The senior JD-U leader has also invited all Opposition leaders for a conference in New Delhi on August 17.
Image: Bahujan Samaj Party chief Mayawati.