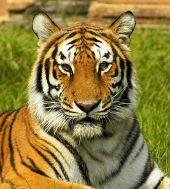 In the backdrop of widespread concern over the declining tiger population in the country, it has come to notice that Maharashtra lost 120 tigers between 2005 and 2007.
The Economic Survey 2009-10, which was tabled in the state legislature on Tuesday, says that there are only 148 tigers in the state as compared to 268 in 2007.
Similarly, the number of panthers has drastically come down from 717 in 2005 to only 292 in 2007.
There are three tiger projects in the state -- Melghat, Tadoba-Andhari and Pench situated in the Vidarbha region. Recent figures state that there are only 1,411 tigers in the country.