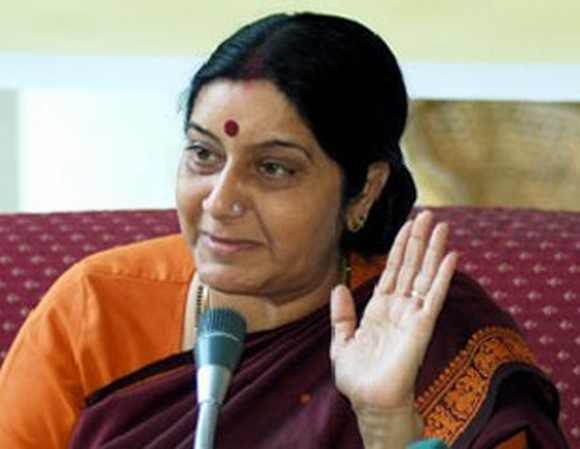 If Pakistan does not return the head of martyred soldier Hemraj, India should get at least 10 heads from the other side, Bharatiya Janata Party leader Sushma Swaraj said on Monday and asked the Centre to take tough action against that country.
"If his (Hemraj's) head could not be brought back (from Pakistan), we should get at least 10 heads from there side," Swaraj told reporters here after visiting Hemraj's family along with party president Nitin Gadkari and leader Rajnath Singh.
"The question is: will we sit without any reaction and engage in a dialogue? This should not happen. At least the government should react in some way. That is why we have said that the government should take some tough measures," she said.
Lance Naik Sudhakar Singh and Hemraj were killed on January 8 by the Pakistan army regulars after infiltrating into Indian territory in Poonch sector of Jammu and Kashmir.
"Today, the nation is demanding don't prove a weak government. They (Pakistan army) came on the LoC, killed our soldier and took away his head with them and there should be no reaction...this should not be tolerated at any cost," she said.
Swaraj alleged the government showed lack of respect to the martyr and demanded an apology. "The government should apologise for the apathy. They should apologise to the family of the soldier and the country. But they should at the same time take revenge for the incident which took place," she said.
Swaraj said Hemraj's wife Dharamvati was disturbed 'about the lack of respect' shown by the government towards him.
"She is disturbed about two things, one is about the honour of her husband. She said I couldn't even see his face. As you know that his body arrived without the head, she is shocked at this but nobody from the government came for his final rites. The other is about the honour and dignity. Both her feelings are legitimate," Swaraj said.
"I feel it is a great neglect from the government's side. When the entire country is feeling outraged, the government didn't even inform when and how the last rites will be performed.
"It was informed that the cremation took place after the sunset, nobody from us got to know about it. But all the top officials from the government knew about it," Swaraj said.
She said there should have been sincere efforts by the government to be present at Hemraj's last rites. "As per rules, the defence minister should have himself come here. If he couldn't come, the state minister should have definitely come. The Home minister should have come, somebody from the Prime Minister's Office or some state minister should have come."There is army in Mathura... somebody from the Central command in Delhi should have come. But the kind of apathy that has been shown, their grievance is genuine," she said.