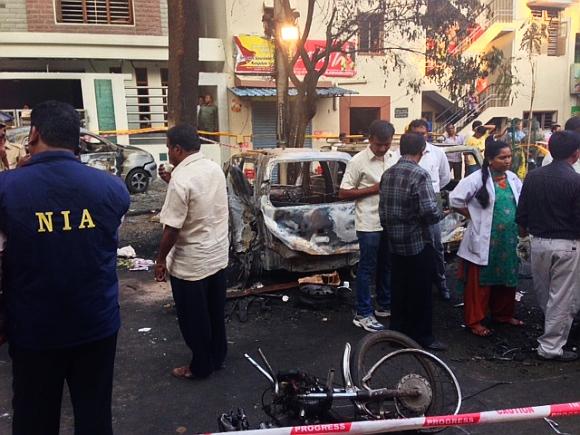 Police sources have told rediff.com that ammonium nitrate, shrapnel, a digital clock and and an improvised explosive device composed the bomb which went off in Bangalore on Wednesday. Vicky Nanjappa reports.
The police also say that a through recce of the place was done and the blast was carried out by someone who was very familiar with the area. The fact that he stood at the site for 12 minutes after parking the bomb-laden bike is an indication of his confidence.
The forensic experts are however struggling for clues as a lot of evidence has been washed away.
"The fire brigade did not take care to preserve the evidence while dousing the fire," alleged a police official.
The police have however not named any outfit and even the National Investigation Agency is tightlipped about the same. NIA officials say that they have the requisite details and would examine it with their databank.