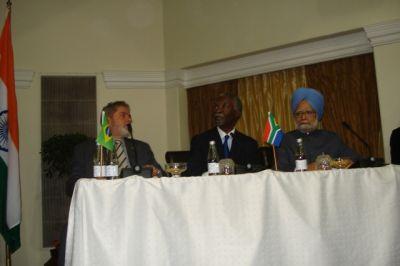 The second summit of the India-Brazil-South Africa (IBSA) Dialogue Forum was held at Tshwane in Pretoria, South Africa, where Prime Minister Dr Manmohan Singh, Brazilian President Luiz Inacio Lula Da Silva and South African President Thabo Mbeki adopted the outcome of the 4th Ministerial Commission held in New Delhi on July 17.

It was decided at the meeting that India would host the third IBSA summit next year.

The leaders re-committed themselves to vigorously pursue the deepening of South-South cooperation for sustainable development.

The heads of the three countries emphasized the need for ensuring the supply of safe, sustainable and non-polluting sources of energy to meet the rising global demand for energy, particularly in developing countries.

In this context, they agreed to explore approaches to cooperation in the peaceful uses of nuclear energy under appropriate International Atomic Energy Association safeguards.

The leaders also said the importance of ensuring that any multilateral decisions related to the nuclear fuel cycle did not undermine the inalienable right of states to pursue nuclear energy for peaceful purposes in conformity with their international legal obligations.

Both Mbeki and Lula said nuclear cooperation issue was being discussed among them and a positive result is something they look forward to. The comments gain special significance especially in the context of the United Progressive Alliance-Left tiff over the Indo-US N-deal.

The leaders welcomed the preparation of an integrated IBSA Social Development Strategy, which would build on the best practices of the three countries for serving as a blueprint for South-South cooperation.

The leaders said the WTO Doha round of trade negotiations was entering a critical stage. They reaffirmed their commitment to carry out negotiations towards an outcome that was fair and acceptable to all.

The trio also mentioned that agriculture remained the key to the conclusion of the round. They called for the removal of long-standing distortions and restrictions in agricultural trade, such as subsidies and trade barriers that affect the agricultural exports of and domestic production in developing countries.

The leaders called for the establishment of joint projects and collaboration for the increased usage of alternative sources of energy such as bio-fuels, synthetic fuels, wind and solar energy to help achieve the objective of energy security.

At the end of the summit, a number of memoranda of understanding were signed. These include: MoUs in public services; cultural cooperation; social issues; health and medicine; energy and wind resources; higher education and customer tax and administration.
Text and photograph: Indrani Roy Mitra in Pretoria