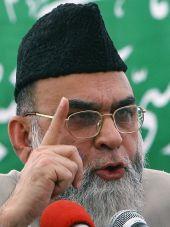 Delhi's Jama Masjid chief cleric Syed Ahmed Bukhari has said investigation agencies have the tendency to name perpetrators of any bomb blasts in the country much before initiation and conclusion of their probes.
Referring to the recent Hyderabad blasts, Bukhari said the National Investigation Agency's claim that the evidence pointed towards involvement of the Indian Mujahideen in the bombings was baseless.
"If the investigators have pointed fingers towards the Indian Mujahideen, then let them declare the location of its office and disclose identities of its activists," said the cleric while interacting with mediapersons in New Delhi on Sunday evening.
Official statements are not supported with evidence, the Shahi Imam of Delhi's Jama Masjid said.
"The government machinery had arrested innocent Muslims after Malegaon, Mecca Masjid and Samjhauta Express blasts," he said.
Sixteen people were killed and over 100 injured when two bombs placed on bicycles went off within minutes of each other at Dilsukhnagar area in Hyderabad on February 21.