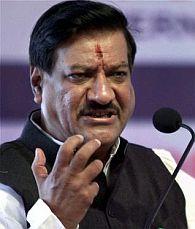 Maharashtra Chief Minister Prithviraj Chavan has said that searching for tourists/pilgrims at various shrines in the Himalayan state of Uttarakhand was one of the most complex jobs ever undertaken by his team.

Talking to rediff.com exclusivelyhours before his scheduled trip to the flood ravaged Uttarakhand where he will conduct an aerial survey of Kedarnath and identify with the grief of thousands of pilgrims, Chavan said, "As soon as we heard about the disaster we opened a control room in Mumbai. People were asked to get in touch with their district's collector."

"Our collectors all over Maharashtra painstakingly took all kinds of details for families of the people trapped in the Himalayan state. Many pilgrims had nicknames and many families reported missing relatives' name twice or more. Even our MLAs prepared their own distinct list."

"We pruned them and kept sending an updated list to our camp office in Dehradun where 30 officers of the state government are helping the tourists who are arriving from the affected areas. We have also sent three doctors to help pilgrims."
According to Chavan, the search of each and every tourist is a painstaking exercise.

The list of tourists who have travelled from Maharashtra are sent to the Uttarakhand government and the Disaster Management Authority. The names are collected from every nook and corner of Maharashtra, but if it does not reach the right centre in the mountains the exercise can go futile too. So, the state government set up two centres for emergency help in Haridwar and Rishikesh. The control room team is headed by Pradeep Kumar, additional resident commissioner of Maharashtra Sadan in New Delhi. He has more than Rs 50 lakh cash to buy food, medicines and transport facilities.
The site office in Rishikesh is situated next to a helipad, where many victims are been flown down in helicopters.

In a unique exercise to help trapped pilgrims from his state, Chavan's government gave Rs 2000 cash doles as soon as they arrived in a safe zone.

Also, two helicopters were exclusively engaged by Maharashtra to ferry trapped people.
"We prepared an exhaustive list of 2,700 people trapped in Uttarakhand; got the names of the tourist companies that facilitated their journey and listed each and every traveller's mobile number. That was most important," Chavan says, adding wryly, "In the given situation, a mobile connection is more important than food."
The gigantic exercise has enabled the state government to locate 2200 Maharashtrian tourists trapped in different parts of Uttarakhand.
However, some 500 tourists are still missing.

The state Congress unit has donated Rs 5 crore as aid; the state government has declared Rs 10 crore, the highest in the country so far.

Mumbai Control room numbers: 022-22027990/22816625
Pradeep Kumar can be contacted at 0968140663