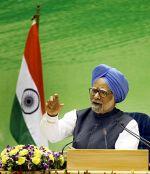 A senior government official on Friday said that Prime Minister Manmohan Singh's oft-talked about visit to Gah, his birthplace in Punjab province of Pakistan, should not be completely ruled out during his remaining term in office. The official was discussing a range of strategic issues in an off the record conversation.
India will wait for a window of opportunity to see if and when Prime Minister Singh can visit his birthplace located near Chakwal.

A senior officer, well-versed with the matter, said, "If Pakistan's prime minister and president can come for cricket or to visit Ajmer why can't our PM go home just once?"


"India doesn't need to solve the Siachen, Sir Creek or Kashmir problem to facilitate PM Singh's visit to Gah,!" he said.
Having said that, the prime minister's office, has currently no any plan nor has it envisaged of any programme to undertake Dr Singh's non-political visit to Pakistan. However, the official said that the doors are not shut tight, and the prime minister may undertake the trip, if and when a suitable circumstance arises.
"India is unable to take forward the relationship substantially because one is not sure who to talk to. Earlier, we knew that the Pakistan army was in control, but now, even that's not the case. There is no clear authority in Pakistan today," he said.

"India wants to negotiate the settlement of pending issues but Pakistan only wants to settle Siachen and Sir Creek on their terms. They want India to surrender its stand. That's out of the question," the officer said.